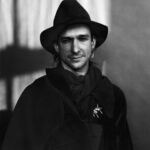 Huck Snyder was a visual artist and a designer of vivid stage settings for dancers and performance artists. He created sets and stage furniture that were surrealistic yet extremely simple and almost childlike at times. Imaginative and free in their execution and unmistakably his work, his sets often seemed inseparable from the vision of the performers with whom he worked. Huck had designed stage sets for the performance artist John Kelly beginning with sets for Diary of a Somnambulist in 1985. Other important collaborations with Mr.Kelly included "Pass the Blutwurst, Bitte," an evocation of the painter Egon Schiele and his work; "Find My Way Home," a retelling of the story of Orpheus and Eurydice; "Love of a Poet," based on Schumann's "Dichterliebe," and "Akin," which depicted the relationships of father-and-son troubadours from the middle ages to the present. The multi-level, boxlike set he designed for Kelly's 1991 work "Maybe It's Cold Outside" was crammed with the colorful and mysterious artifacts of five people's lives and was considered by some to be Mr. Snyder's best work.
Mr. Snyder also created sets for dances by Bill T. Jones and Bart Cook, and for theater pieces by Ishmael Houston-Jones. He conceived, directed and designed his own work "Circus," a performance-art piece presented in 1987 at La Mama E.T.C. Mr. Snyder's work has been displayed at the Lincoln Center for the Performing Arts, the Brooklyn Academy of Music and the Dance Theater Workshop in New York. His paintings and installations have been exhibited at galleries throughout the United States and in solo and group shows in Europe and Japan. His theater work received 2 New York Dance and Performance, or Bessie, Awards in 1985 and 1991, and a 1988 Obie Award for Sustained Excellence in Scenic Design. He was nominated for American Theater Wing Awards in 1987, 1988 and 1991. Harry William Snyder 4th was born in Lansdale. His mother, Helen R. Snyder, said she gave him his nickname when he was a boy, after Mark Twain's Huckleberry Finn. He graduated from North Penn High School in 1971 and went on to the College of William and Mary in Williamsburg, Va., where he graduated summa cum laude in 1975. He also attended the Goethe Institute in Berlin.
He died of AIDS in 1993, at his parents' home in Lansdale, Pa. He was 39.
Images of work coming soon.
Read Less Read More