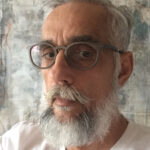 Hugo Moro was born in Havana, Cuba in 1954. He lived in New York City from the age of 12, there he attended The High School of Art and Design; Pratt Institute; The Fashion Institute of Technology; and The Art Students League. In New York he held various graphic design positions in advertising and publishing. He relocated to Miami Florida in 1999, since then he has visited Cuba with support of Research Travel Grants from Florida International University's Cuban Research Institute. In 2006 he participated in the IX Havana Biennial invited by the Biennial's collateral exhibitions committee. In 2009 he participated in the first Ghetto Biennial in Port-au-Prince, Haiti. He was an artist in residence at Art Center/South Florida in Miami Beach, and an adjunct professor at FIU from 2006 to 2012. He relocated to Seattle in 2014 with Cameron McKenzie his PNW native husband of 32 years, and two old kitties, they and their puppy Jules now live in Tacoma WA.

Read Less Read More
My work is the product of a recursive and tangential thinking process influenced by elements of genre, outside content, medium, and more.
The work exists in a multitude of forms and is transmitted across multiple media.
Through the examination of the meaning of the materials used, I encourage the viewer to utilize these symbols to explore the complicated nature of storytelling.
Education
2006 MFA, Florida International University, Miami, FL
2003 BFA, New World School of the Arts, Miami, FL
1975-78 Fashion Institute of Technology, NYC
1974-75 Pratt Institute, Brooklyn, NY
1970-74 High School of Art and Design, NYC
Solo Exhibitions
2017 WARP & WOOF, Gallery 4500, Seatttle WA
2010 Ni Ange Nwa, Diaspora Vibe Gallery, Miami, FL
2009 Through the Years, Miami Beach City Hall, Miami Beach, FL
2008 The Bigger Picture, Art Center/South Florida, Miami Beach, FL
2007 Black and White, Art Center/South Florida, Miami Beach, FL
2006 Almacén, Frost Museum, FIU, Miami, FL
2005 La Capilla de los Palos, Bernice Steinbaum Gallery, Miami, FL
Selected Group Exhibitions
2018 Arts in Parks, Kinnear Park, Seattle, WA
2018 Latino Arte, Kenmore City Hall, Kenmore, WA
2017 Seattle Center Sculpture Walk, Seattle, WA
2016 Cuban Fried Chicken, MAC Fine Art, Fort Lauderdale, FL
2014 Walking in Someone Else´s Shoes, Aluna Art Foundation, Miami, FL
2013 International Cultural Exchange/Suriname, Diaspora Vibe Gallery, Miami, FL
2012 Boca Raton Museum of Art 61th Annual Exhibition, BRMA, Boca Raton, FL
2011 Cuba Now, 21Century Museum, Louisville, KY
2010 Florida Contemporary 2010, Naples Museum of Art, Naples FL
2009 7000 trees for Haiti, 1rst Ghetto Biennale, Port-au-Prince, Haiti
2008 Lotus House Soup Kitchen, Margulis Warehouse, Miami, FL
2007 All-Media Juried Biennial, Art and Culture Center of Hollywood, Hollywood, FL
2006 Almacén, IX Havana Biennial collateral exhibit. Havana, Cuba
2005 Sweet Basil, Bernice Steinbaum Gallery, Miami, FL
2004 It's For The Birds, Bernice Steinbaum Gallery, Miami, FL
2003 2nd Annual Miami Art Exchange Non-Affiliated Juried Exhibition, Miami, FL
2002 Paraguay Biennial, Asunción, Paraguay
1989 Annual Members Show, Lower East Side Print Shop, NYC
1986 Ash tray Show, Club 57, NYC
1985 Love Tunnel Installation, El Pueblo Gallery, NYC
1982-86 Assorted performances at The Pyramid Club, NYC
Publications
Ghetto biennale, Richard Fleming, The Miami Herald, January 3, 2010
Unexpected discovery…, Daniel Chang, The Miami Herald, July 20, 2009
Rutas del Arte, Adriana Herrera T., El Nuevo Herald, March 26, 2006
La Capilla de Reinaldo Arenas, by Jose A. Evora, El Nuevo Herald. April 24, 2005
A Fine Sense of Place, by Alfredo Triff, Miami New Times, January, 2005
Taking Flight, by Elisa Turner, Miami Herald, July 18, 2004
Bird drop-ins, by Franklin Einspruch, Street Weekly, June 11, 2004
Awards and Grants
2017 Seattle Center Sculpture Walk Grant, Office of Art & Culture, Seattle, WA
2011 First Prize, Humoratorium: The Art of Whimsy Exhibition, Fort Lauderdale, FL.
2009 First Prize, All-Media Juried Biennial, ACCH, Hollywood, FL.
2005 Cuban Research Institute Travel Grant, Florida International University, Miami, FL
2004 Cuban Research Institute Travel Grant, Florida International University, Miami, FL
2003 The League for Innovation National Arts Competition "Best in Show".
2003 Finalist in Espirito Santo Plaza Artwork Competition, Miami, FL
2000 Altos de Chavon, visiting artist, La Romana, Dominican Republic
1993 The FamilyFun KidTest Toy of The Year Runner-Up for Guess It, by Aristoplay, Ltd.
1991 EPAA Distinguished Achievement Award for Graphics of Article in SuperScience Blue Magazine
1992 Parents' Choice Award for SuperScience Blue Magazine
1989 Scholastic's Achievement Awards For Design of SuperScience Blue Magazine
1981 Clio Awards Certificate of Creative Excellence Sergio Valente Jeans Roller Rink TV spot