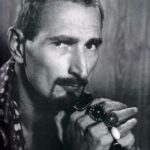 Jack Smith was an American filmmaker, actor, and pioneer of underground cinema. He is generally acclaimed as a founding father of American performance art, and has been critically recognized as a master photographer.
Working in New York from the 1950s until his death in 1989, Smith unequivocally resisted and upturned accepted conventions, whether artistic, moral or legal. Irreverent in tone and delirious in effect, Smith's films, such as the notorious Flaming Creatures (1962-3), are both wildly camp and subtly polemical. Smith is best known for his contributions to underground cinema but his influence extends across performance art, photography and experimental theatre.
After his last feature film, No President (1967-70), Smith created performance and experimental theatre work until his death on September 25, 1989 from AIDS-related pneumonia.
Links to his films:
Flaming Creatures (1962-3)
https://www.youtube.com/watch?v=YrAlBrWpDSw
https://www.youtube.com/watch?v=SNI9OgICJHk
No President (1967-70)
https://www.youtube.com/watch?v=c-gCsvqAuqo
(slide show images, not the actual film)
Jack Smith and the Destruction of Atlantis (2006)
https://www.youtube.com/watch?v=8AWRGH8jIJY
documentary film about Jack Smith
This is a tribute page created by Visual AIDS
Read Less Read More