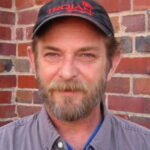 James "Jimmie Mack" Simmonds
1948–2008
James "Jimmie Mack" Simmonds was born in Wahoo, Nebraska. A self-taught artist, he worked in various mediums, including weaving, painting, beadwork, wood carving and more.
In 1995, he created his first "Spirit Baskets." Jimmie Mack had been collecting oxygen tubing that other Persons Living With HIV/AIDS had used, and had accumulated T-shirts and other garments form people who had died of AIDS related illnesses.
Using the oxygen tubes as the base, he wraps strips torn from the T-shirts or leather jackets, etc, around them and coils them wrapped tubes into a variety of basket shapes.
Holding these baskets in our hands, one can feel the presence of the loved ones who have proceeded us to the other side. The colorful design signifies the beauty and strength of those individuals who are no longer with us.
Jimmie Mack attributes his interest and knowledge of native American Art and folklore to personal curiosity, inner visions, artist friends, and family, especially his grandmother Jose, an Iowa Sioux, who taught him how to weave baskets. He was part Native American and very proud of that heritage.
Jimmie Mack was born November 23, 1948, in Wahoo, Nebraska and died in 2009 in Des Moines, Iowa. He lived in Omaha, Nebraska, most of his life.
Read Less Read More