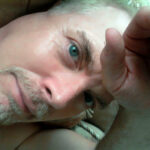 James Schuiteman
b.1953
In the early 1970's worked extensively with hand built ceramics. In the late 1970's focused on pencil drawings. In the early 1980's received BA in Art with an emphasis in Graphic Design, from San Diego State University. Worked professionally as a Graphic Designer for much of the 80's and through the 1990's. As a Graphic designer produced a wide range of art used primarily for training purposes, modalities included pen and ink illustrations, computer based illustrations, animations and interface design for computer based training. Beginning in 2001 moved focus to painting, studying water color, oils and acrylic painting. Presently focused on paintings done with acrylics.
Read Less Read More
Currently, I am creating representational imagery, with the human figure as the primary focus. My intention is to present irony or use symbolism within my work because I feel Art should challenge the mind. At the same time I am drawn to Art as beauty and strive to incorporate classical rules of composition, balance, etc.
Most of my recent pieces include a certain amount of homo-erotic energy. There is a consistency in subject as the figures represented are often athletic African-American men. Although I am not black and as such, an outsider, I believe that Afr.-Amer. men have long been the most neglected and in some ways the most disenfranchised segment of our society. There is a certain level of risk in presenting pieces of this nature and I request my work NOT be taken in context. I do not wish to exploit or show disrespect in any way. My impulse comes from admiration.
Works are primarily done with acrylic paints, but I also work with oil paint and watercolor.