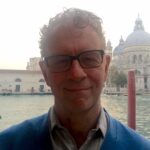 I am an acupuncturist and artist who has been involved with treating people with HIV/AIDS in my own practice and at an AIDS residence. For awhile during the AIDS crisis I stopped panting but I initially returned to painting as a way to express anger. Painting quickly became my greatest joy and the work has been increasingly influenced by my meditations . I've remained healthy and happy and my work has become increasingly cheerful, light hearted and life-affirming even as the world has become darker. Created out of a sense of well-being, my work expresses harmony and spirituality and is intended to be up lifting. I've produced hundreds of works.
Read Less Read More
As an artist who has been influenced by Ancient Greek art, Southwestern pottery, and ancient textiles, I create images that express universality by using patterns that have appeared in various cultures. Although the work references the spiritual roots of modernism, the materials I use – carved wood, fabric, and metallic leaf – reflect basic decorative concerns and give my work a timeless quality that is both accessible and mysterious.
The paintings appear to change as the light changes, expressing dual themes of the permanent and the ephemeral. The metallic leaf surfaces reference sacred art and reflect changing ambient light to such a degree that the paintings appear to be completely different works of art at different times of day. And, since the surfaces often appear carved, they also change with the angle of light. While distinctly modern, the use of burlap fabric gives the work a warm familiarity. Recently I've been expanding on this idea by making complementary floor cloths which further extend the decorative space.
The edges of the paintings, finished with fine-line patterns from Greek pottery, contribute to the organic familiarity of the decorative effect and eliminate the need for frames, but, like the changing quality of the surfaces, make it challenging to convey the effect of my work in a photograph.
EXHIBITIONS:
2005 Magnifico Restaurant 2006 Magnifico Restaurant 2009 Postcards from the Edge 2010 Jackson Hall Gallery 2010 Ninth Avenue Saloon 2011 Small Works, Harper College 2011Small Wonders, The Artist's Gallery, Flagstaff, AZ 2011Small Works Invitational, Elon University 2011 Postcards from the Edge 2012 Postcards from the Edge 2013 Postcards from the Edge 2014 Postcards from the Edge; 2016 "Pattern Play" Johnson & Johnson World Headquarters