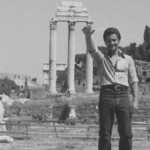 Jerry the Marble Faun
b.1955
Jerry the Marble Faun (b. 1955 New York) is a Queens based artist, primarily working in stone and earthenware. All of his sculptures are carved by hand without the use of machines. He began carving stone in his partner's apartment stairwell on 23rd Street in New York City in 1987. Since his long overdue debut exhibition (2014) with Jackie Klempay, Jerry has since exhibited artwork at SITUATIONS (New York), Canada (New York), Andrew Edlin Gallery (New York), the Bureau of General Services Queer Division (New York), Geary Contemporary (New York), Elaine de Kooning House (East Hampton, NY), Outsider Art Fair (New York and Paris), and NADA (Miami). His work has been written about in The New York Times, The Wall Street Journal, Architectural Digest, Vogue, Forbes, Interview Magazine, Artspace, and The Hampton's Art Hub, amongst other publications.
Jerry is well known for his appearances in the Maysles brothers' 1975 documentary Grey Gardens, the 2006 follow up The Beales of Grey Gardens, and as a character in the 2007 Broadway musical Grey Gardens. While living at Grey Gardens with the Beales, Edith "Little Edie" Bouvier Beale gave Jerry the nickname "The Marble Faun" which Jerry accepted as a fated path to art-making. In addition to sculpting stone, Jerry has worked as a gardener for the Royal Family of Saudi Arabia, with Wayland Flowers and his puppet "Madame" during their cabaret acts in the 70′s, and twenty years as a taxi cab driver in New York City.
Read Less Read More
Jerry the Marble Faun primarily carves marble and limestone. In choosing subject matter, life experience is the single greatest influence. In 1980 Jerry traveled to Egypt. He was greatly impressed with not only the magnificent stone, but that their organic paints were still intact after thousands of years. When he began carving stone he frequently conjured his experience in Cairo. For example, he carved his Arabian horse, Confetti, in Carrara marble. He named him Confetti because he reminded him of home - when the horse drank water and shook his head, water sprayed everywhere like New Year's Eve in Times Square. He plans to use this sculpture as his tombstone when he dies.
Jerry is well know for his appearance as the teen handyman in the Maysles Brother's 1979 documentary Grey Gardens. (He ran away from home and slept beneath Big Edie's grand piano). He also created a sculpture titled Pairs which reflects Big Edie and Little Edie's codependent relationship.
After the stones are carved, Jerry often uses natural patinas, such as moss or handmade cranberry-terracotta-olive oil mixtures. The moss and lichens are achieved by placing the works outside in his garden in Queens.
Jerry also uses the hammer that his uncle gave him. He was also a stone carver who produced many of the tombs in Greenwood Cemetery in Brooklyn. It takes Jerry about 6 months to complete a sculpture if he work 5 days a week for 5 hours. It is a very labor intensive process, but he loves it.
Jerry The Marble Faun (b. 1955, New York, NY)
1987 - Began carving stone
2015 - Began sculpting earthenware

Exhibitions:
2018
Jerry the Marble Faun, SITUATIONS, New York, NY
2017
Frank Haines, Jerry the Marble Faun, Astria Suparak, 2nd floor projects at Luggage Store Annex, San Francisco
The John Riepenhoff Experience presents:Trunks by Jerry the Marble Faun Torre, Elaine de Kooning House, East Hampton, NY
Charles Andresen and Jerry the Marble Faun, Geary Contemporary, New York, NY
2016
Jerry the Marble Faun & Raynes Birkbeck, SITUATIONS, New York, NY
SAFE & SITUATIONS, Safe Gallery, Brooklyn, NY
Persons of Interest, The Bureau of General Services – Queer Division, New York, NY
Lucky Draw, Sculpture Center, Queens, NY
Anthem of the Sun, CANADA, New York, NY
Made By Hand, Andrew Edlin Gallery, New York, NY
2015
Elastic Practice, Clifford Chance, New York
SITUATIONS presents Elastic Practice, NADA Art Fair, Miami, FL
Jerry the Marble Faun and Christopher Garrett, Outsider Art Fair, Paris
Tabboo! vs. Henry Darger, Outsider Art Fair, New York, NY
2014
Jerry the Marble Faun and Katherine Irwin, Jackie Klempay Gallery, Brooklyn, NY
Jerry the Marble Faun, Outsider Art Fair, York, NY
Press:
Binlot, Ann. "Hot Market: The Outsider Art Fair Opens In New York." Forbes. 28 Jan 2015
Wilk, Doborah. "The Outside Breaks In." Christies. Web. 28 Jan 2015
Grimes, William. "A Brush With Fame, Long Before His Life in Art: Jerry Torre, the Marble Faun, at Outsider Art Fair" New York Times. 29 Jan 2015
Gamerman, Ellen. "The Insider's Guide to Outside Art: Five Artists to Watch at New York's Outsider Art Fair." The Wall Street Journal. 29 Jan 2015
Editorial Staff. "Outside In." Architectural Digest. Jan 2015
Bilsborough, Michael. "Baby, It's Warm Outside." SVA Continuing Education. Web. 30 Jan 2015
Guiducci, Mark. "Hightlights from New York's Outsider Art Fair: the Most Refreshing Show in Town." Vogue. 30 Jan 2015
Small, Rachel. "10 Picks From The Outsider Art Fair 2015."
Interview Magazine. Jan 2015
Rosenberg, Karen. "An Inside Look at the 2015 Outsider Art Fair" Artspace. Jan 2015
Rogers, Pat. "Jerry the Marble Faun of Grey Gardens at Outsider Art Fair NY" Hamptons Art Hub. Jan 2015