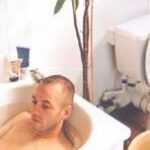 Jochen Klein trained as a painter, then committed himself to a broad-ranging practice informed by social and political activism before returning to painting. At the time these shifts seemed—from the outside, at least—to be sharp changes in direction.
Klein studied classical painting with Professor Hans Baschang at the Academy of Fine Arts in Munich.
After studying, he turned away from classical painting and devoted himself to conceptual art, joining the New York artist collective Group Material.
In 1995, he moved to London and returned to painting, combining the experiences he gained from his conceptual phase with virtuoso colorism. In London, Klein worked in the Cubitt Gallery artist group and collaborated with his partner, photographer Wolfgang Tillmans. Klein is best known for his idyllic landscape scenes that were inspired by photo wallpaper, illustrated magazine ads, and erotic films. Klein learned he had AIDS only seven weeks before his death.
Tribute page created by Visual AIDS.
Read Less Read More