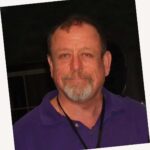 John Keasler
b.1949
An artist activist living in Southern California for four decades, John Carlos Keasler is a creative artist working in many media. Born in Texas, the son of a carpenter father and seamstress mother, he is self taught.
John began painting in the mid 1970s influenced by the freedom and beauty of Southern California. He began working in wood in the early 1990s.
He served as the exhibition coordinator for AIDS Art Alive.
For fifteen years he was the creative artist for the Dr. A. Brad Truax Awards. He has twice curated the Kids Art Therapy (KAT) exhibition for the UCSD's Mother, Child and Adolescent Program.
He co-coordinates the Art of Pride in the annual San Diego LGBT Pride Festival, monthly displays in Bard Hall and the Pride offices. He also produces exhibitions in Bard Hall at the First Unitarian Universalist Church of San Diego where he is a Trustee.
In 2012 John created a 20 foot high fabric installation for the San Diego Museum of Art.
Read Less Read More