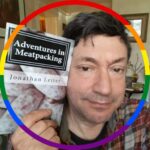 Jonathan Leiter was born in Uniontown, Pennsylvania in 1959. He grew up in the New York metropolitan area and attended high school at Akiba Academy in Philadelphia. He received a Bachelor of Arts degree in Theater Design from Rutgers University, where he studied painting with Leon Golub and performance art with Geoff Hendricks. He has performed under the name Reuben Sandwich since 1980 and has appeared in many performance spaces throughout New York City. He has also hosted Reuben's Flophouse, evenings of musical variety in numerous downtown spaces, such as Max Fish and Wonderbar, as well as performing for many fundraising benefits. He has been performing as Minnie Van Driver, International Ambassador of Love since 2002.
Read Less Read More
As a long-term survivor of HIV and cancer, death, disease and desire emerge and interact as repeating themes in my art practice. My work takes the form of various series and in various media with overlapping influences.
The Wimpy Paintings and Virus Paintings are informed by my experience as an artist living with HIV. The virus, which still effects our communities, is always with me; yet it inspires me to explore vibrant and humorous aspects in my artwork. Motivated by the COVID-19 pandemic, these new works also announce my return to painting after many years.
My sculptural pieces often use everyday detritus, which I desiccate, prepare, and gold-leaf for display as Precious Objects. These otherwise discarded items are presented as memento mori of the small, cherished moments in our lives. They are long-term projects using time-consuming methods, often taking years to complete.
My works express life as a balancing act to be appreciated while we are here on earth.
Solo Exhibitions
March 2011 Early Drawings Atelier de Merz, Staten Island, NY March 2011 Early Paintings Deep Tanks, Staten Island, NY Aug. 1986 Detente, an installation Hey Viv's, Staten Island, NY Apr. 1983 Recent Paintings Brooklyn Waterfront Artists Open Studio Show Apr. 1982 Three Fates, an installation Brooklyn Waterfront Artists Open Studio Show June 1981 Paintings Mason Gross School of the Arts, Rutgers University Apr.-May 1981 Paintings Livingston Art Gallery, Rutgers University Apr. 1980 Paintings & Color Xerox Prints Douglass College Library, Rutgers University
Group Exhibitions
Sept.. 2012 Works on Paper Deep Tanks Studio, Staten Island, NY Nov.-Dec.. 2011 The Sword of Damocles: Selections from The Frank Moore Archive Project The Painting Center, New York, NY June-Oct. 2011 ICED Newhouse Center for Contemporary Art/Snug Harbor, Staten Island, NY December 2008 Pigments and Photons Art @ Bay, Staten Island, NY November 2003 Small Works Show SOHO 20 Gallery, New York, NY February 2002 Love & Sex: an international juried exhibition Printmaking Council of New Jersey, Somerville NJ October 1999 Queer Vision Mason Gross School of the Arts, Rutgers University October 1998 HIV Arts Network Special Exhibition Judson Memorial Church, New York, NY July 1998 Peek: The Artist Exposed Here, New York, NY Nov. 1997 What Now? Aljira, A Center for Contemporary Art, Newark, NJ Feb. 1996 Arts' Communities/AIDS' Communities: Realizing the Archive Project Boston Center for the Arts, Boston, MA Sept. 1983 Auschwitz Abstraction, an installation Brooklyn Waterfront Artists, BACA Downtown Arts Center, Brooklyn, NY June 1981 Three Paintings 5th Annual Mudd Lane Society Tour, Staten Island
Major Performances
December 2006 Beware the Holiday Punchbowl: An Evening of Cautionary Songs and Stories SI Museum, Staten Island, NY February 2006 MY NEW YORK SLIP: A Post-Valentine's Day Post-Mortem w/ Minnie Van Driver SI Museum, Staten Island, NY February 2005 FREE LOVE w/ Minnie Van Driver The Muddy Cup, Staten Island, NY April 2003 Ask Minnie Day de Dada Part Deux, The Muddy Cup, Staten Island, NY April 2002 Love Songs & Posh Tunes Day de Dada, The Muddy Cup, Staten Island, NY Feb.1996 Original Soundtrack Dixon Place, NYC, NY Feb.1991 The Odile Variations Theater 22, NYC, NY May 1987 Looking Good: Reuben Sandwich at The Saint The Saint, NYC, NY Apr.1986 The Wakitty WAC's, A USO show for the New Militarism Darinka, NYC, NY Aug.1985 Prime Parts 8 BC, NYC, NY May 1985 Trite 'N' True: an unexplained series of events Darinka, NYC Mar.1985 HEARTBREAKLAND: a performance Darinka, NYC Dec.1984 Nocturnes Darinka, NYC Nov.1983 Bars of Night a performance BACA, Brooklyn, NY July 1983 Man Machine/Men Magazine: a performance Inroads Multimedia Art Center, NYC, NY 10012 July 1981 Europarail: Images of Other Places Inroads, NYC Dec.1980 I Hear America Eating: a massive media piece Rutgers University, NJ July 1980 Love is Like a Poached Egg: a performance 15th Annual Avant-Garde Festival, NYC Apr.1980 Meteors Crossing: an exercise in 25 acts Franklin Furnace, NYC, NY Grants 2011 Visual AIDS Artists' Material Grant 1985 185 Nassau Street Corporation