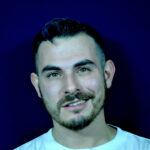 Joseph Varisco
b.1985
Joseph Varisco performs independent production and development support to underrepresented, HIV+, and queer populations as Program Coordinator of Art AIDS America at Alphawood Foundation, co-curator at Salonathon, and Resident Curator for Poonie's Cabaret at Links Hall. Varisco is the creator of the annual performance series QUEER, ILL, & OKAY (QIO), sits on the Victory Gardens Community Leadership Council, a recipient of the AIDS Healthcare Foundation, Chicago Community Trust, and Visual AIDS grants and Program Director of the Chicago Queer Arts Mentorship Program via High Concept Labs.
Varisco's work focuses on utilizing local development, community partnerships, and strategic mentorship programs to elevate queer arts, establish heritage, and enrich Chicago's cultural landscape through persistently developing relationships with underrepresented creative and educational minds.
Read Less Read More
Varisco's work is a counter to traditional models for artistic production. Varisco focuses on Chicago's LGBTQIA and Gender Non-Conforming, communities of color, economically disadvantaged, educationally limited, ill and differently abled, immigrant and undocumented, and other systematically oppressed people. He asserts that new cultural movements and forms of artistic expression begin with these communities. Themes focus on intersections of identity, issues of segregation in Chicago, and the significance of art as resistance, survival, and celebration. The methods by which Varisco elevates and executes this work varies dependent upon consent, participation, and contribution of these communities, which include collaborative projects: performance series, literary publications, oral history, video documentation, and educational workshops. Work is produced via non-traditional spaces in neighborhoods from Englewood to Rogers Park, Logan Square to Lawndale, Wicker Park to Bridgeport, Pilsen to Evanston and many more. Success is measured by an increased desire to support this content such as programming educational workshops at the School of the Art Institute, archiving literary works with the University of Chicago Archives, partnerships with organizations such as StoryCorp and nationally touring exhibit Strange Bedfellows, and collaborations Links Hall Theatre and Neofuturists. Varisco has found an effective way to engage change is to listen to what marginalized communities have to say and identify opportunities for their voices to be heard. Collaborative projects are his primary means of bridging differences. Not only has this practice continued to spur new creative projects, honored originating communities, created sustainability through network growth and shared resources, but also generated an exponential investment in the value of creative works and their impact.
Joseph R. Varisco
| www.jrvmajesty.com | www.linkedin.com/in/joevarisco |
LGBTQ Arts Program, Community Development, Production Specialist
Creative support and strategic resources for LGBTQ artists and organizations. Eight years of diverse project management.
PROFESSIONAL EXPERIENCE
Program Coordinator – Alphawood Foundation: Art AIDS America Chicago – Chicago, IL (2016 – Present)
Provide program support to the nationally touring exhibit Art AIDS America Chicago as well as guidance, community outreach, and engagement strategies.
Program Director - QUEER, ILL, & OKAY – Chicago, IL (2012 – Present)
Queer, Ill, & Okay is a an annual multidisciplinary performance series featuring underrepresented queer artists living HIV and other forms of mental and chronic illness, including educational workshops.
Director of Development – The Inconvenience – Chicago, IL (2014 – 2016)
Responsible for grant research, writing, and calendar maintenance, donor relations, fundraisers, and board prospects for $150k annual budget. The Inconvenience is a community of interdisciplinary artists mixing music, theatre, dance, fine art and educational initiatives.
Artistic Director – JRV MAJESTY Productions – Chicago, IL (2012 – Present)
Production and project management of independent creative, cultural and social justice focused LGBTQ works.
Program Director: High Concept Laboratories' Institutional Incubation Program – Chicago Queer Arts Mentorship Program (2016)
Performance Curator: Salonathon – Neo-Futurist INFILTRATION (2015), Kitchen Festival (2016), Poonie's Cabaret (2012-2016)
Production/Dramaturgy: Animals Commit Suicide First Floor Theater (2016), La Lune De Femme NOLA Fringe Festival (2014), REVIVAL at Pritzker Pavilion (2013-2014)
Producer: Queer Lexicon Oral History Series, StoryCorps Partnership, Featured on Vocalo, Exhibited in Strange Bedfellows (2013)
Teaching Artist – About Face Theatre – Chicago, IL (2012 – 2013)
Develop curriculum and conduct creative writing and performance workshops for inner-city youth.
Creative Director – Chicago IRL – Chicago, IL (2011 – 2013)
Local arts and literary digest documenting Chicago's LGBTQ populations featuring 200+ artists. Archived at Chicago Cultural Center, Chicago's Read/Write Museum & Gerber/Hart Library & Archives.
Social Media Campaign Consultant - Heartland Alliance – Chicago, IL (2010 – 2011)
Design and facilitate implementation of social media educational strategies promoting HIV prevention for Nigerian MSM at four site locations.
EDUCATION
MSW in Community Health & Urban Development
Jane Addams School of Social Work – University of Illinois at Chicago(2011 – 2012)
BA in Applied Behavioral Sciences with Public Policy Concentration
National-Louis University (2010)
ADDITIONAL EXPERIENCE & ACHIEVEMENTS
Victory Gardens Theater Community Leadership Council (2016)
Grant Recipient: AIDS Healthcare Foundation, Visual AIDS (2015)
Links Hall Poonie's Cabaret Program Curator-in-Resident (2014 – Present)
Howard Brown Health Center Community Advisory Board Member (2014 – Present)
Chicago Ideas Week Co-op Board Member (2014 – Present)
Grant Recipient: AIDS Foundation of Chicago , Dramatists Guild Fund, Pollination Project (2014)