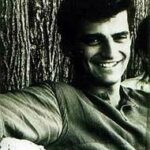 Juan Suárez Botas
1958–1992
Juan Suárez Botas was a Spanish illustrator and filmmaker. His illustrations appeared on the covers of Time, Fortune, U.S. News & World Report, The New York Times, Vogue and other publications.
Botas moved to the United States from Spain in 1977. He studied at Syracuse University and studied and worked with the graphic designer Milton Glaser. He died of AIDS in August 1992. He was directing a documentary about his AIDS treatment group at the time of his death, which was released as One Foot on a Banana Peel, the Other Foot in the Grave: Secrets from the Dolly Madison Room.
This is tribute page created by Visual AIDS. Text from New York Times and IMDb.
Read Less Read More