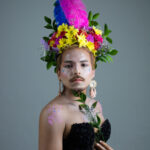 Currently based in Bogota, Colombia, I combine the Defense of Human Rights and artHIVism from Latin America. I explore and share spiritual elements from self-care and the experience of HIV in a pleasant and dignifying way. I am active in audiovisual activism with my performances and autobiographical documentaries "De Gris a POSITHIVO" (18 ́), shown at 37 Film Festivals in various countries and at the International Online Conferences HIV2020 (Mexico) and AIDS2020 (San Francisco) and "POSITHIVO , for Violeta ", a feature film with an impact being developed produced by Salmón Producciones. In both I reflect on the narration with a proper voice of HIV. I am Coordinator of Political Influence for the Latin American Network of Positive J + LAC Youth and Adolescents.
Combino la Defensa de Derechos Humanos y el artHIVismo desde Latinoamérica. Exploro y comparto elementos espirituales desde el autocuidado y la vivencia del VIH de forma placentera y dignificante. Milito en el activismo audiovisual con mis performances y documentales autobiográficos "De Gris a POSITHIVO" (18 ́), proyectado en 37 Festivales de Cine en varios países y en las Conferencias Internacionales online HIV2020 (México) y AIDS2020 (San Francisco) y "POSITHIVO, para Violeta", largometraje de impacto en desarrollo producido por Salmón Producciones. En ambos reflexiono sobre la narración con voz propia del VIH. Soy Coordinadorx de Incidencia Política de la Red Latinoamericana de Jóvenes y Adolescentes Postitivxs J+LAC.
Read Less Read More
National School of Cinema of Colombia 2020.
Lawyer, University of Caldas 2009.
International AIDS Conference Online 2020 - Global Village and Youth Programme
* Film Screenings, July 2020.
Winner "Best Documentary Short Film" 6th Atlantic International Film Festival 2020
"Best Passionate Short Film"6th Villa Del Cine Film Festival 2020.