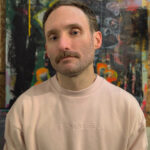 Justin John
b.1981
Justin W John is known for his quiet chaos of abstract "landscapes"—a visual simile and metaphor through emotive brush and knife work. Fascinated by psychology and cognitive processes, Justin's work bridges internal and external, translating the nonphysical through color, gesture, shape, and texture.
Aggressive surges of paint offset the fields of color then melt away. Gestural figurative subjects and pop art style, and iconography can be traced as well.
While his work draws mostly on personal experience with some titles referencing politics, social tones, and historical art figures, you can see influences by a wide array of artists, styles, and media that weave throughout like a tapestry.
Read Less Read More
My work forms in the gray matter; I pluck out the pearls, sort out the rotten parts, regurgitate, lather, rinse, and repeat. Interpersonal relationships, textual translations, and pixelated information make up our evolving social normative models, mine being no different. I often search for patterns behind the process. Sometimes to close the loop, sometimes to break it.
Reflection, distortion, emotion litter my process with random synaptic firings like land mines, but it's all a necessary means to connect the dots in my attempt to form a connection. I see it as this type of kaleidoscope where I examine the mundane day-to-day, where I find beauty in the banal or miserable. As a way of acceptance, rather than ignorance, then pushing past and moving beyond.
JUSTIN W JOHN

b. 1981 American
Lives and works in Boise, ID.

SELECTED EXHIBITIONS
2021
Art Auction 53, Group exhibition, Yellowstone Art Museum, Billings, MT
2020
Tom of Finland Emerging Artist Competition Group online exhibition, Tom of Finland Foundation, Los Angeles, CA
The Other Art Fair Online Studios Los Angeles Presented by Saatchi Art, Group online fair, Los Angeles, CA [Included in Saatchi Art Curated Collections—Cold War-Era Nostalgia, Contemplative & Calm Abstracts, Make A Statement, New Pop Art]
Portraits, Group online exhibition, Las Laguna Gallery, Laguna Beach, CA
High Kitsch, Group exhibition, The Gem Center for the Arts, Boise, ID
Eros, C'est La Vie, Online exhibition, Gallery 110, Seattle, WA
Art Auction 52, Group exhibition, Yellowstone Art Museum, Billings, MT
2019
Traffic Box Art Pop-Up, Group show, Beside Bardenay, Boise, ID
North x Northwest, Group exhibition, Yellowstone Art Museum, Billings, MT
17th Annual Juried Art Show, Group exhibition, Art Source Gallery, Boise, ID
Art Auction 51, Group exhibition, Yellowstone Art Museum, Billings, MT
2018
Conception Arts, Group show, Iron Triangle, DTLA, CA
RAW: CONNECT, Group show, Revolution Concert Event Center, Garden City, ID
SIMULACRUM, Solo exhibition, UPCYCLE Studio, Boise, ID
2011
Exposed: The Polaroid Retrospective II, Lamont Bishop Gallery, Washington, D.C.
COMMUNITY PROJECTS
2020
LL4V: Love Letters 4 VAC, Benefit auction, Visual Arts Collective, Garden City, ID
Rally For Sally! - Cancer Benefit for Tina Lancaster, Benefit auction, Visual Arts Collective, Garden City, ID
PUBLIC ART
2019

"Go With The Flow" by Kristen T. Ramirez, Boise Greenbelt Mural Project, Boise, ID
"300 Gallons" 19-181Q, Boise City Dept. of Art & History, Traffic Box Art, Boise, ID
EDUCATION

2003
Maryland Institute, College of Art, Baltimore, MD
BFA in Graphic Design, Concentration in Digital Media Arts
Studied under Ellen Lupton
Graphic Design Department Recognition Award
Seymour Mandelbaum Merit Award

2020
My Artreprenuer™ Program, Boise, ID
Idaho Commission on the Arts
Studied under Dr. E. L. Kittredge