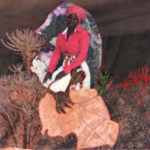 Founded in 2000, the Keiskamma Art Project in Hamburg, Eastern Cape, showcases alluring textile works, beadwork and wireworks, all of which aid in the archiving of the Eastern Cape rural collective memory and preservation of oral history. The Project has won a number of awards, including the Business and Arts South Africa (BASA) Award and the Chairman's Premier Award (2011) which recognises sustained and extraordinary commitment to the arts in South Africa.
One of the key tenets of the project's ethos and success is collaboration. Recently, through an artist residency in Cape Town and workshops in the rural village of Hamburg, the artists have worked alongside Pippa Hetherington, former Visual AIDS intern, delving into shared histories. This collaboration is highlighted under Keiskamma Art Project in our Quarantine Web Gallery for September 2020.
The Keiskamma Art Projects' monumental artworks are found in several national and international collections, including the parliament buildings in Cape Town as well as the permanent collections at the University of South Africa, the University of Witwatersrand and the Nelson Mandela Metropolitan Museum. The Keiskamma Art Project also provides income and other forms of essential support for many families through its cohesive network of women and youth.

View the ongoing "Cuttings" online exhibition with the Keiskamma Art Project & Pippa Hetherington by clicking here.
Read Less Read More
The motivation behind the collaboration between Pippa Hetherington and the Keiskamma Art Project culminating in Cuttings 1820 – 2020 is based on 200 years since the British settlers came to South Africa in search of greener pastures. Unknowingly, they were used by the British government to act as a buffer between the British protectorate and the Xhosa people of the south eastern part of South Africa, leading to decades of brutal and bloody warfare. Pippa Hetherington is a direct descendant of the 1820 settlers while the group of women from the Keiskamma Art Project are direct descendants of the Xhosa families from the same time and area.
Cuttings 1820 – 2020 is the first virtual exhibition that the K.A.P. has been involved in. Due to COVID-19 restrictions, the show was initially postponed much to the disappointment of the artists, however, through resiliently working from home and with the support of GFI Art Gallery in Port Elizabeth who could convert the exhibition into an online experience, the artworks are now available to view at www.gfiartgallery.com/