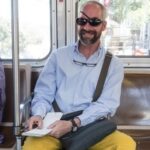 Kurt M. Schwartzmann
540 Ortega Street San Francisco, Ca. 94122
kurtschwar@gmail.com
Artist / Printmaking / Creative Design

Born 1964 in Fresno, Ca. - Lifelong North / Central California resident. Resident of San Francisco since 1992. Retired Pastry Chef and Baker. Creative, detail-oriented, artist who thrives on completing challenging complex projects. Specializing in drawing from life, in settings that reflect the beauty, inner workings and diversity of San Francisco.
Read Less Read More
"Yellow Line" - A slice of life aboard SF MUNI - An exhibition by Kurt M. Schwartzmann
In 2006 I lost all vision in my left eye due to complications of AIDS. In the first half of 2008 I was homeless and living on the streets of San Francisco. MUNI buses, running around the clock, often provided me the only safe place to sleep at night. I appreciate that the fare box in front of the bus still accepts pennies, nickels, and dimes. I appreciate that I was allowed to pay what I could without humiliation, making public transportation available to me and to all.
Today, as I travel around San Francisco on MUNI buses, my monocular vision gives me a unique ability to focus in on the bus driver and their surroundings, while blocking out external influences. I used this ability to create a series of 64 drawings depicting my view of what's in front of the "Yellow Line". I created this piece as a tribute to the hard working operators of MUNI that put up with SO much drama and still manage to keep our city moving efficiently, rain or shine. I chose this elongated format, 3 1/2 " x 16 1/2", because each drawing shows a slice of life as I see it. I am grateful that my world is still full, rich and colorful even though my field of vision is half of what it was.
The media that I used to create these drawings include Pen and Ink, Watercolor, Colored Pencil and Acrylic Pen on Watercolor Paper and Collage made from my bus transfers, collected while drawing this series from February though July of 2015. Each drawing is unique in media, design, and style.
Education
City College of San Francisco, 2011 - Present
Basic, Intermediate and Advanced Drawing classes
Basic, Intermediate and Advanced Printmaking classes
Design, Figure Drawing, and Painting classes
Awards
2014 First Prize City College of San Francisco, QRC Visual Art Show
Solo Exhibitions
2016 Yellow Line, Roger Baird Gallery, Conlan Hall, City College of San Francisco, Ca.
2015 Yellow Line, Fort Mason Studios, City College of San Francisco, Ca
2015 Yellow Line, First Congregational Church of San Francisco
Group Exhibitions
2011, 2013, 2014, 2015 Fort Mason Annual Holiday Exhibition & Sale
Publications
San Francisco Chronicle, Style Section, 9/3/2015