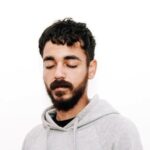 Born in Rio de Janeiro, Brazil, currently based in Mexico City.
I studied Painting at Universidade Federal do Rio de Janeiro and graduated in 2016. In 2014, I joined an exchange program for Visual Arts at Universidad Nacional Autónoma de México (UNAM). Prior to this, I studied Telecommunications at CEFET Rio de Janeiro, which had a great lasting impact on my approach to art.
In 2016, I had the opportunity to develop an art project with the aid of the Secretaría de Relaciones Exteriores de México (SRE), which culminated in my first solo show, Mitomania, at Pandeo in Mexico City. I have also collaborated with public Mexican institutions such as the Museo de la Ciudad de México and the Museo de la Ciudad de Querétaro, as well as with independent spaces and galleries like Salón Silicón and Bikini Wax. Abroad, I also had the opportunity to exhibit in Brazil and, most recently, New York.
In 2020, I will present my first museum solo show at the Museo de Arte Carrillo GiI (Mexico City), entitled Adpocalypse, and I've recently been accepted to study an MA in Visual Arts at the Dutch Art Institute (DAI).
Read Less Read More