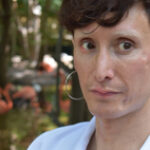 Manuel Solano
b.1987
"Hello. My name is Manuel Solano. I work using ubiquitous references and pop culture imagery to make commentaries about my experiences and self.
Early in 2014 I became blind as a result of an HIV-related infection. Before going blind, I was one of the best painters I could think of, certainly the best one I personally knew. Now, I'm not so sure. My work is still very much, however, referential and intimate; queer and nostalgic; silly and provocative; exuberant and engaging. But don't take my word for it. Do have a look." -Manuel Solano
Born in Ciudad Satélite, a suburb near Mexico City, to an engineer father and a business owner mother, Solano credits their parents for fostering their creativity and allowing them a freedom of self-expression not always available to children. Young Solano took to coloring books, dancing, and making plasticine figures. Things took a turn in early adulthood when, as the burgeoning artist was about to begin art school, they were hit with an HIV-related illness. Left untreated because they were repeatedly denied care by government clinics, Solano lost their sight in the spring of 2014, at 26 years old.
"I thought it was over," they recall. "I thought I couldn't be an artist if I was blind, for many reasons. I thought even if I tried to be an artist it would be seen as a joke, like a dog walking on its hind legs or something."
But a friend convinced them to paint again, as an "experiment." Solano hasn't stopped since. Their first museum show, at the Museo de Arte Carillo Gil, took place two years later. Now, two years after that, Solano's paintings will be exhibited at the fourth New Museum Triennial, along with the work of 25 other promising young artists from all over the world. In "Songs for Sabotage," Solano considers the heightened role of identity in today's world and wrestles with the fluidity of gender perception—specifically, their own.
Don't be fooled, though: none of this came easily for Solano. The multidisciplinary artist reminds themselves everyday to keep moving forward, despite the obvious challenges that come with not being able to see their own artwork. Solano now employs tactile and oratory perception in order to complete a piece: outlining the canvas in physical markers, using their hands to apply paint, and asking friends for feedback.
-Excerpt from article by Jane Gayduk in Interview Magazine, 2018
Manuel Solano (b. 1987, Mexico City) completed their BFA at La Esmeralda, the National School of Painting, Sculpture, and Printmaking, Mexico City, in 2012. Solano's work appeared most recently in the 2018 Triennial: "Songs for Sabotage," New Museum, New York, and the group exhibition "El Chivo: Expiatorio: Sida + Violencia + Acción," Museo de la Ciudad de México. Their work has also been included in solo and group exhibitions at Institute of Contemporary Art, Miami (2018-2019); the Portland Institute for Contemporary Art, Oregon (2017); Museo de Arte Carrillo Gil, Mexico City (2016); and Museo Universitario del Chopo, Mexico City (2014).
NY Times, In The Studio with Manuel Solano:
https://www.nytimes.com/video/t-magazine/100000005945300/in-the-studio-with-manuel-solano.html
Read Less Read More