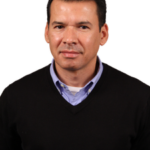 Marco, is an LGBT activist and an impact filmmaker focusing on marginalized communities, elevating the experiences immigrant people (especially those who are undocumented), LGBTQ people (with emphasis on transgender women of color), people living with HIV/AIDS, POC communities, youth and young adults, women, sex workers, people struggling with mental health, people who inject drugs, and people with non-traditional abilities. He works to weave together these interconnected struggles, and in doing so, intentionally challenge toxic masculinity, racism, homophobia, transphobia, and other "isms" that threaten our collective well being. He considers his film work to be "a contracorriente " and his philosophy is inspired by the efforts of the "Third Cinema" coined by filmmakers and thinkers of the movement of "New Latin American Cinema" in the 70s where the main purposes aimed to resist, mobilize, agitate, and promote social consciousness to counter the practices of the American film industry.
Marco advocates for the human rights of LGBT people and people living with HIV/AIDS, as a convener for Venas Abiertas, a network of Latinx immigrant people living with HIV/AIDS in the U.S., a vice-chair for the steering committee member of The U.S. People Living with HIV Caucus , a board member for The Avielle Foundation (an organization working on preventing violence and building compassion through brain health), and was a lead organizer with the coalition of Californians for HIV Criminalization Reform resulting in the passing of SB 239 and the repeal of outdated HIV criminalization laws in 2018. He is also a senior advisor for Familia: Trans Queer Liberation Movement, MAVEN and Somos Familia , and Corazón Abierto, organizations that work with queer youth and their families in the United States and Mexico.
In 2010, Marco directed his first short documentary Tres Gotas de Agua, in collaboration with Somos Familia. In this film, three Latina immigrant mothers tell their personal stories about their children's coming out processes. In 2015, he premiered his most recent work, El Canto del Colibri (The Hummingbird's Song) featuring Latino immigrant fathers discussing acceptance of their LGBTQ children. In 2015, Marco was selected by Obama's White House for the prestigious Champions of Change award that recognizes LGBT artists who use media to illuminate the experiences of LGBT Americans and create opportunities for dialogue, inclusion, and understanding. In 2017, he was awarded the Equal Justice Thematic International Residency at Santa Fe Art Institute. In this project, he feels privileged to collaborate with local Latinx queer organizations, exploring the concept "cinema callejero " promoting counter-hegemonic narratives, as it relates to the concept of "community" among immigrants, New Mexicans, and Native American queer people.
More recently, in 2018 Marco was invited to the FIHRE (Fighting Injustice through Human Rights Education) Fellow Program by the US Human Rights Network, an organization that works to facilitate and expand the base of the domestic human rights movement, supporting the growth of an active, multi-sector movement – one that utilizes the human rights frame to identify the root causes of violations and to call on government to address the realities on the ground. Through the presentation of Marco's work in film, immigration, HIV, and mental health issues, he offers a deep understanding of the multiple layers that may help to identity brain illnesses, as well as paths to compassion, community, healing, resilience, and resistance.
Marco lives in California with Lola, his 18 years old cat.
Read Less Read More