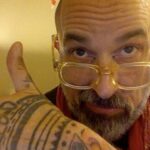 Mark Mitchell
b.1962
Mark Mitchell is an artist who speaks to social issues through textiles. His contributions to Seattle's cultural community bridge a number of disciplines, including art, music, theater, fashion, activism, and education. He is the subject of the award-winning short film Burial, and presented a performance and exhibition of the same title at the Frye Art Museum in 2013. Mark was recently artist-in-residence at The New Foundation Seattle where he continued to develop his new group of sculptures concerning racism and mass incarceration called Burial 2 . He was a finalist for the 2015 Neddy at Cornish in the open medium category.

In addition to his fine art practice, Mark has worked extensively as a costume designer, maker of custom clothing, tattoo artist, and teacher. His in-studio workshops are a popular introduction to his personal techniques used for hand-sewing, embroidery, and silk flower making.

A long-term AIDS survivor, Mark is passionately grateful to be alive, and as a result his social practice is married to his artistic practice. Giving back through his art is his way of giving thanks and doing good in the world. He lives with his partner of 14 years, Kurt. B. Reighley.

Read Less Read More
I create with great care, thoughtful detail and integrity.
Full current CV available, please email itsmarkmitchell@mac.com.