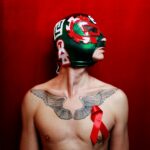 Martin Kamen
b.1982
Magister of Art Martin Kámen (*1982) graduated The Academy of Fine Art, Prague (New Media Art) 2008. He´s started with photography in 1999. His first solo exhibition was in 2003 in No D Gallery - Roxy, Prague. 2007- 2011 he was a director and script writer of QUEER Programme Show for Czech Television. In 2008, he co-established The Chemistry Gallery in Prague. 2008 - 2012 as an art director in The ICON Gallery, Prague. He was one of the founders and president of HIV/AIDS charity project Art for Life in Czech Republic (2007 - 2015). Between 2011-2015 he was a photographer of National Theatre in Prague.
In 2015 he moved to Barcelona and started to teaching at Estudio Nómada - Art School a field of photography and video art.
Since 2019 he lives in Madrid and is dedicated to the photographic creation and painting of paper puppets under his own brand Titiriti.
His work was presented at nearly fifty exhibitions internationally - Amsterdam, Barcelona, Los Angeles, London, Prague, Warsaw. He became the curator of twenty exhibitions of contemporary acclaimed artists.
Art works of Martin Kámen are represented in the collections of the National Gallery in Prague, the Goethe-Institut of Los Angeles, the Jan and Meda Mládek Foundation, the Skalička Chateau and other private collections.
He has also been writing for the last 6 years. His play "Salome Brut" for one actor (Vladimír Marek) was staged in Prague at the La Fabrica Theater. He is currently working on a screenplay for the film "Triumph Spa".
Read Less Read More
About myself:
Queer since 1999
Art is for life, my life is Tableau Vivant and my work tells about my life. Let others rather talk about my work.
"Martin Kamen's artworks let us see the past through the eyes of the future. His fine art photograps quote classical painting in humorous and sensual way. In real life and in his art he is always a perfect gentleman."
Marc Divo - visual artist (Switzerland)
"If we start from the notion of beauty, we will find that in Martin Kamen's photography with the help of ironic verism we can meet with a provocatively traditionalistically staged allegory of wisdom."
PhDr. Jan Kříž - art historian (Czech Republic)
"Part of the queer visual art in Europe leeds us to an important source of images featuring men that express forms of suffering and loss. The world of antiquity, both in myths, literature and history, and the artworks that have survived from that time. Theme of a destroyed male friendship occurs in all kind of variations from the Renaissance onwards and is still found to this day, in the context of social unrest caused by terrorism in the staged potographs of Czech photographer Martin Kámen ( about the Apollo and Hyacinth, 2010)"
Anton Anthonissen and Evert van Straaren -
Queer Encyclopedia in Europa 1969 - 2019 (Nederlands)
"In his photographic work, he places strong emphasis on the narrative content of photography, its aesthetic and technical perfection. It reflects his distinctive artistic and life attitude. He focuses on the search for a Baroque-aesthetic form, through which he also expresses criticism of today's society. He draws from the visual bank of artistic expressions of the past and present, uses existing dictionaries, but newly programs, constructs and fills them with current meanings."
PhDr. Rea Michalová - art historian and curator (Czech Republic)
"Works selected from the author's wide portfolio demonstrate that Baroque feelings and Baroque aesthetics have not disappeared, even more than five centuries after. The work of Martin Kamen, who in the postmodern spirit works with quotations from Baroque masters of painting, such as Frans Snyders, J.D. Heem, P. Claesz, or with mythological themes elaborated by neoclassical authors led by French academics Jean Broc, Jean Delville or W. A. Bouger. Tension, death, conflict, all this emanates from photographs that do not allow the audiance to leave them without being disturbed. He does not let the viewer enjoy the empty beauty, but he urges with the given themes and with a formally brilliantly mastered work. In it, he uses not only his knowledge of art history, photographic craft but also extraordinary artistic imagination and creativity. Martin Kámen proves with his cycle of Baroque-tuned photographs (which are only a small section of the breadth of his work) that he is a talented author from the category of staged photography artists, made famous by Cindy Sherman, Jeff Wall or Gregory Crewdson, and rightfully belongs to the the contemporary art photography scene."
Kateřina Tučková - novelist and curator (Czech Republic)
About the hand painted paper puppets:
TITIRITI is a brand of hand-painted paper puppets centered around the odd, the surreal, and the wholly queer. An artform following a several hundred-year-old Czech tradition of puppetry is brought into the contemporary world for adults to play in. All that is needed to bring the fabulously delightful puppets to life is a stroke of whimsy, a sense of humor and a pair of scissors.
Print Publications
Queer Encyclopedia in Europa 1969 - 2019
Oxford Encyclopedia 2016 - British Publishing House
Photographic Monograph Contemporary Baroque 2012
Photographic Monograph 100NEON 2008

Charities
Art for Life Benefit for HIV/AIDS
Fanatique Art Show - Tatana Kucharova Foundation

INTERNATIONAL EXHIBITIONS

TAOBQ | Middlesbrough, UK | 2019
LOOP Festival | Barcelona, ES | 2016
Czech Center| Amsterdam, NL | 2012
Divus Institute| London, UK | 2009
Galeria Szara | Warsaw, PL | 2009
Photo L.A. | Los Angeles, US | 2006
Art University| Chicago, US | 2005
List of all Exhibitions

2020
The Isolation Collection - online international exhibition
2019
The Art of Being Queer / Sept. / Middlesbrough - UK
2018
EXHIBITION / opening of Czechoslovak Library / August 2018/ Barcelona
2017
LOOP FESTIVAL -Time Is On Your Side / Estudio Nómada / 23. -27.5.
HEROES / ZELIG / Barcelona / Since 2016
2016
HEROES / ZELIG Barcelona / 8.9.
ECOS / NAIVE STUDIO / Barcelona / 8.7. - 15.8.
2014
My Muse / Decadent Art Club / Český Krumlov / 7.11. - 24.12.
Art for Life - charity auction / Karlín Studios / 31.10.
East Side Story / Karlín Studios / 13.8 - 7.9.
Dark Depths of Happiness / Orlovna Gallery / Kroměříž / 20.5. - 15.6.
2013
Dark Depths of Happiness / New Town Hall / 7.5 - 16.6.
Open-air PHOTO festival / Český Krumlov / 8.6. - 9.6.
Delikates / solo exhibition / Prague - Boudoir / 17.6. - 31.8. SMRTIHLAV / solo exhibition / Prague - FotoGrafic Gallery / 18.09 - 21.10.
Fanatique Art Show / Říčany - Kotelna Gallery / November
2012
Michal´s Collection Gallery - Prague, Naked Truth - solo exhibition, March / April
Chrudim Exhibition Hall, Contemporary Baroque, solo exhibition, March / May
Skalička Chateau, Contemporary Baroque, solo exhibition, May / August
What a material, Amsterdam - Czech Center, August
Klatovy Klenová Gallery - Original Perspectives, October / December Theater in Celetná, Gender 3, Prague, November
2011
Disappointment from Paradise - Trutnov, UFFO Gallery, May / June Original and promising - Prague, Bohemia Modern Art Gallery, September
UTOPIA ON THE ABYSS - Trade Fair Palace of the National Gallery, September - November
2010
Manipulant - solo exhibition - Prague, The ICON Gallery, 17.9. - 30.10. Disappointed with Paradise - Prague, New Town Hall, 5.10. - October 30
FANATIQUE - Říčany, Kotelna Gallery, 8.11. - 26.11.
Mandustry - solo exhibition - Plzeň, Měšťanská Beseda 10.11. - 20.11.
2009
Definition of Beauty - Prague, Diamant Gallery
Shining - London, Divus Institute
Girls against Boys - Warsaw, Galeria Szara
EWOP - Kolín, Divo Institute, February
2008
New Media Art - Prague, Czech National Bank Graduates of the Academy of Fine Arts - Prague, Trade Fair Palace KinderPunk - Prague, V. Kolona, Bohnice Medical Center, January / February
2007
18th Jubilee Exhibition of the Academy of Fine Arts - Prague, National Gallery, Trade Fair Palace, November / December
Grand opening of the Senzor Gallery (Pisařík, Lysáček, Kabzan, Kámen) - Prague, December
Universal Revolution - performance 3DDiva, Prague, V. Kolona, Bohnice spa complex, November / December
Buřiči a Buřinky - as part of the Mezipatra festival, Prague, Le Court Gallery, November
2006
Fashion Antifashion - Praha, Galerie c2c
Photo L.A. – Los Angeles, January
2005
Mirror - participation in a joint exhibition of students of the Academy of Fine Arts and the University of Chicago, Chicago Forms of expression II. - solo exhibition, Prague. gallery NoD, March exhibition with students from Chicago - Daubner Gallery, February
2004
Gate (performance with Darina Alster) - Prague, hospital complex in Bohnice / 4/11 Retrospect - solo exhibition of photographs, Prague, Café Erra, August / October Necrofolklor - Prague, La Fabrika, July participation in the symposium and exhibition in the Klenová Gallery - a series of photographs from Berlin, May / June
2003

Bakšišchildren - Prague, Café Erra, November / January Photographic portraits, old sewage treatment plant building in Prague-Bubeneč, October
Forms of expression - 1.solo exhibition, Praha, Experimentální prostor NoD, January/ February
Curator Projects
2007
MEZIPATRA - Exhibition Buřiči a Buřinky, Praha, Galerie Le Court, November
The Chemistry Gallery
2009
B. Maštrlová - Half-Life - Sculptures, Instalations
NextTargets - artwork of Václava Misaře a Tomáše Absolona
UNIVERSERUM - connecting applied art, design furniture, flower design, paintings and sculptures
Festival New Media Art and Shakuhachi - connection of intermedia creation and workshop in playing the classical Japanese flute
Markéta Urbanová - BLACK - exhibition of one of the most talented artists of hyperrealistic painting in the Czech Republic
2008
Joao Galrao - After Hours (exhibition of the renowned contemporary Portuguese sculptor)
The ICON Gallery
2012
Ondřej Janů - I. Solo Photography Exhibition
Kojiart - Cherchez La Femme
2011
Pavel Kryz - Singles - Painting
Art for Life - 4. charity Exhibition (Ludwig, Chochola, Singer, Kryz, Rittstein, Císařovský, Pěchouček, Gemrot a další)
Ida Saudková - Hotel - Photogtraphy
Jan Miko – Trans – action painting
Jan Gemrot - Metaplasia - hyperrealistic painting
2010
Vladivojna La Chia – Highgheels– Paintings
Martin Stranka – MONO - Photography
Art for Life - exhibition of paintings and photographs for a charity project to fight AIDS, 3st year
2009
Veronika Drahotová – Memplex – paintings
Art for Life - exhibition of paintings and photographs for a charity project to fight AIDS, 2st year
2008
Art for Life - exhibition of paintings and photographs for a charity project to fight AIDS, 1st year