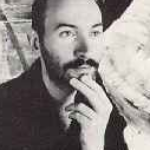 Max Coyer attended Trinity College in his hometown of Hartford, Connecticut for one year, majoring in poetry. He moved to New York City in 1980 and began his life as a visual artist. He began exhibiting frequently at Harm Bouckaert Gallery in Tribeca.
"Synthetic Art" was the theory and term coined by Max Coyer to describe his work. His paintings were essentially an amalgamation of both academic and modernist art movements, heavily influenced by both and with neither of their methods. In a 1984 interview he stated "Synthetic art accepts other art."
Historical references, mark experimentation, stenciling, and symbolism were all prevalent techniques in Coyer's work. Notable series of works include the cone paintings, which he created after having a "strong and pleasant dream about flying in a spaceship" and depict a cone with its point down and two sides like an arc of a circle, which has been read as an abstract head with two shoulders; and the opium paintings which were supposedly inspired by Jean Cocteau's series of self portraits that he drew during treatment for his addiction to the drug, opium. It is said that Cocteau's drawings were about the agonies of withdrawal from drugs, and Coyer's paintings served as metaphors for a type of artistic withdrawal from the tenets of modernism after "modernism became a habit."
Coyer's work has been exhibited all over the country. Throughout the 1980s, Coyer frequently exhibited in New York and was represented by the Harm Bouckaert Gallery in Tribeca. Other notable exhibitions include the Dalsheimer Gallery of Baltimore and the Louis Newman Galleries of Beverly Hills.
Max Coyer died of AIDS in 1988. The remainder of his work currently resides with his family in Connecticut.
This tribute page was created by Visual AIDS.
Read Less Read More
"The first works of art that I felt were important were early pencil drawings, very precise drawings that I did in 1978-79, of specific objects, such as Scotch tape dispensers and a glue container. I did not do any paintings at this time, only drawings, but I k new the next series of works would not be studies of objects but abstract paintings. So I did a series of paintings, most of which no longer exist; they've either been painted over or destroyed. Later, it seemed like exercises in composition even though some of them were rather nice paintings.
Then, after a dream, the cone image came into my work. In the earlier works, there h ad been triangular or pyramidal forms, but never a cone until this strong and very pleasant dream about flying in a spaceship. All of a sudden, and quite subconsciously, what turned out to be a cycle of thirty paintings came from that single dream of the cone pointing downward wit what seemed to be shoulders at each side of this shape. The whole series looked like abstract portraits in a sense.
One thing that occurred to me is that as a artist working at the end of the twentieth century, subconsciously or consciously, there is the feeling of art history weighing down upon you. Every brushstroke you make on a canvas, someone else has made before you. Oil paining, easel painting, has been explored for hundreds of years. Art history is behind everything we do today, and the only way I could see to deal with this power was to actually use art history as subject matter. I think the only way an artist can work today is to make synthetic art or art derived from the work of someone else.
With synthetic art it's not so much a continuity of images but a digestion of imagery - a digestion of all that's gone before us. If an artist today paints a copy of a Picasso painting it's not derivative. It is as radical an idea for an artist to paint a Picasso copy as it is for Picasso to have done an original painting. The same force is there But Picasso, acting in the antithetical period, did it to overwhelm the thesis or the accepted idea."
A Radical Idea: An Interview with Max Coyer by Judy K. Collischan Van Wagner, ARTS Magazine - September 1984.
Group Exhibitions
| | |
| --- | --- |
| 2011-2012 | December 10, 2011 - January 14, 2012 Mitchell-Innes & Nash, New York, NY |
| 2011 | January 20 - March 3, 2010 Formalist Sidewalk Poetry Club, Miami, FL |
| 2005 | "Outsider Art", The Outsiders Art / Gingras Studios, Cornwall Bridge, CT |
| 2001 | "The Masters Remastered" Las Vegas Art Museum, Las Vegas, NV |
| 1996 | "The Artist's Hand" The Contemporary Museum, Honolulu, HI |
| 1993 | "Twenty Artists Under Twenty Four Inches" Hal Katzen Gallery, New York, NY |
| 1990 | "The 80s: A Post Pop Generation" The Southern Alleghenies Museum of Art, Loretto, PA |
| 1989 | "Contemporary American Printmaking" organized by the Newark Museum |
| 1988 | "The Legacy of Surrealism in Contemporary Art" Ben Shahn Gallery, William Paterson College, Wayne, NJ; curated by Nancy Einreinhofer |
| 1987 | "Realism and Abstraction" 20th Century American Art (permanent collection) The Newark Museum, Newark, NJ |
| 1987 | Seventh Anniversary Group Show, Fay Gold Gallery, Atlanta, GA |
| 1987 | Summer Show, Harm Bouckaert Gallery, New York, NY |
| 1987 | Gallery Group Show, Gruenebaum Gallery, New York, NY |
| 1986 | "Recently Acquired Contemporary Paintings" Newark Museum, Newark, NJ |
| 1986 | Group Show, Albright-Knox Museum (Member's Gallery) Buffalo, NY |
| 1986 | "A Second Talent: Painters and Sculptors Who Are Also Photographers" , Baruch College Gallery, NY; organized by the Aldrich Museum |
| 1986 | "8 X 10" Washington County Museum of Fine Arts, Maryland; curated by Steven W. Majors |
| 1986 | Summer Group Show, Neo Persona Gallery, New York, NY |
| 1986 | "The Liberty Show" Neo Persona Gallery, New York, NY |
| 1986 | "Heads" Mokotoff Gallery, New York, NY |
| 1986 | "Painting in the Third Dimension" City Without Walls, Newark, NJ; curated by Chris Christofaro and Martha Henry |
| 1986 | Winter Group Show, Harm Bouckaert Gallery, New York, NY |
| 1985 | "A Second Talent: Painters and Sculptors Who Are Also Photographers" The Aldrich Museum of Contemporary Art, Ridgefield, CT; curated by Robert Metzger, Director |
| 1985 | "Basically Boxes" Klein Gallery, Chicago, IL |
| 1985 | Group Show, Albright-Knox Museum, (Member's Gallery) Buffalo, NY |
| 1985 | Summer Selections, Harm Bouckaert Gallery, New York, NY |
| 1985 | "Reliefs and Mobiles" Tower Gallery, New York, NY |
| 1985 | "The Doll Show - Artists Dolls and Figurines" Hillwood Art Gallery, Long Island University, Brookville, NY |
| 1985 | Group Show, Neo Persona Gallery, New York, NY 1985 Lillian Heidenberg Gallery, New York, NY |
| 1985 | Gallery Group, Klein Gallery, Chicago, IL; Chicago International Art Expo |
| 1984 | Gallery Group, Klein Gallery, Chicago, IL |
| 1984 | Group Show, Albright - Knox Museum, Member's Gallery) Buffalo, NY |
| 1984 | "Eccentric Images" Margo Leavin Gallery, Los Angeles, CA |
| 1984 | "Bacchanalia" New York Public Library, New York, NY |
| 1984 | "Miniatures" Lillian Heidenburg Gallery, New York, NY |
| 1984 | "Synthetic Art, The Big Show" Harm Bouckaert Gallery, New York, NY |
| 1984 | "Synthetic Art, Part One" Harm Bouckaert Gallery, New York, NY |
| 1984 | "L'Espirit Encyclopedic" New York Public Library, New York, NY |
| 1984 | "Extravaganza" Dramatis Personae, New York, NY |
| 1983 | "Saints" Harm Bouckaert Gallery, New York, NY |
| 1983 | "2nd Anniversary Show" Harm Bouckaert Gallery, New York, NY |
| 1983 | "Work 4 the Next Revolution" Harm Bouckaert Gallery, New York, NY |
| 1983 | "Paintings from the Mind's Eye" Hillwood Art Gallery, Long Island University, Brookville, NY |
| 1980 | "Objects" Alonzo Gallery, New York, NY |
| 1980 | "Glitter" Kathryn Markel Gallery, New York, NY |
| 1980 | Rotating Group Show, Alonzo Gallery, New York, NY |
| 1980 | "Works on Paper" Alonzo Gallery, New York, NY |
| 1979 | "Summers Past" Alonzo Gallery, New York, NY |
| 1979 | "Still Life" Lamont Gallery, Phillips Exeter Academy, New Hampshire |
| 1979 | Rotating Group Show, Alonzo Gallery, New York, NY |
| 1979 | "New American Still Life" Westmoreland County Museum of Art, Pennsylvania |
| 1979 | "Collages - Watercolors - Drawings" Alonzo Gallery, New York, NY |
One Person Exhibitions
2011 March 10 - April 21 Formalist Sidewalk Poetry Club, Miami, FL Press (pdf)
1993 Hal Katzen Gallery, New York, NY
1990 Hal Katzen Gallery, New York, NY
1990 Widener Gallery, Austin Art Center, Trinity College, Hartford, CT
1990 Louis Newman Galleries, Beverly Hills, CA
1990 Center Gallery at Bucknell University, Lewsiburg, PA
1989 Katzen