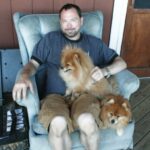 Michael Berube
b.1957
Michael Berube is a visual artist, curator, and educator. He received his BFA summa cum laude from Hunter College in 2007 and his MFA in 2010 also from Hunter College. He has been the recipient of numerous awards including the Tom Woods Award, The Sommerville Art Prize, The David & Sadie Klau Fellowship, and was the 2010 nominee of Hunter College for the Joan Mitchell Graduate Studies Award. He is a member of the artist collective Openings on whose governing body he serves. He has been co-curator of the collective's annual group show for both 2012 and 2013. He is also has curated solo exhibitions by mid-career artists for the Openings Collective. He has shown extensively in both group and solo exhibitions including The Delaware Valley Arts Alliance of Narrowsburg, NY, Liloveve Gallery in Brooklyn, the LGBT Community Center, and the Hudson Guild Gallery, both in Manhattan. His work is in the permanent collection of the Church of St. Paul the Apostle in NYC. Currently he is an Adjunct Assistant Professor at Hunter College teaching an ART 101 course to both art and non-art majors. In the spring semester he organized and mounted Hunter College's first student exhibition of all the ART 101 students.
Read Less Read More
I am interested in the power of seduction. I am interested in a beauty that toys with excess and the abandon of Jouissance. I believe that seduction is a major element in my favorite work and in my own, I believe that beauty, an element of seduction, is something essential and not to be feared. Beauty comes in many forms. It can be glorious and it is capable of being strangely sad or dark and ominous and that range is very exciting. I am fascinated by color and pattern, charged with the dialectics inherent in issues of taste and aesthetics, and informed by an identity infused camp sensibility. My work has a direct relationship to the body, in its imagery and its scale. In imagery, it refers to the abject by its twisting, tumor-like forms that emerge from the painted marks and in the fabrics that reference clothing and the home, here carved and fragmented and embedded into a kaleidoscopic landscape. The work also confronts the body with its scale which is both awesome and intimate. I believe that these are ideas that, at their most provocative, are a testament to imagination and the best and worst of what it means to be human. I choose to believe that these ideas are best investigated through the discipline of painting. I believe there is a forbidding, terrible side to these interests and that there is a great wealth of humor inherent in them as well. I aim to address all of these interests via my work.
One core idea, other than seduction and beauty, which is essential to my thinking and contributes heavily to my work, is found in the word excess. Excess and the manner in which it has been interpreted and represented over the centuries is something that has always fascinated me conceptually. I have a profound connection to those excessive elements, as I interpret them, found in the art of the Baroque period, especially the religious art of Italy. Drawing from elements of that period, such as scale, shape, shine, pattern, and the symbolic nature of the metallic colors of gold and bronze, my latest work is driven by the idea that the excesses of our contemporary time might be represented through the creation of a contemporary version of the Baroque, divorced from the religious content and exploring a purely secular imagery. It offers me a way in which to address my identity issues by exploiting the inherently camp sensibility of the aesthetics of taste and the decorative. This camp sensibility confronts my interest in the concept of beauty and complicates a purely aesthetic reading of the work. Finally, I believe that art creates a social space in which ideas, conversations, and perspectives can interact with a vast array of interested parties. I believe that a work of art is never complete until it has an audience.
Michael Berube 119 Payson Ave. #3G. New York, NY10034 (212) 544-8551 (917) 239-0805 BerubeLondon@verizon.net www.michaelberube.net ________________________________________________________________________________________________
Education: 2010 MFA, Hunter College, NYC. GPA: 3.978 2004-2007 BFA. Summa cum Laude, Hunter College, NYC. GPA: 3.954 1975-77 Associates Degree-Commercial Art, Bryant & Stratton, Buffalo, NY.
Employment: 2012-present Adjunct Assistant Professor, Hunter College, NYC. Art 101: Intro to the Study of Visual Experience. Devise engaging curriculum that places art within cultural and historic context Connect contemporary ideas with various artistic methodologies, materials, and art history through inquiry based learning, gallery and museum visits Blackboard proficient Organize and mount student group exhibition for all of the Art 101 students enrolled 2011-present Member of artist collective Openings NY. Member of governing body • Make decisions with team for direction of collective • Plan annual group exhibition Curator • Annual Group Exhibition • Solo shows for visiting artists Exhibiting artist 2010 Independent Research Assistant to Luitauras Psbilskis of Outpost NYC DCG. 2010 Teaching Assistant, Drawing, Creighton Michael, Hunter College, NYC Participate in group and individual critiques Oversee assignments Substitute teach Demonstration of drawing techniques 2010 Teaching Assistant, BFA Professional Ex. In Art, Gabriele Evertz, Hunter College, NYC Participate in group and individual critiques Lead or assist in lectures on art methodologies and concepts Manage assignments Advise students 2009 Teaching Assistant, Combined Painting I & II, Gabriele Evertz, Hunter College, NYC. Participate in group and individual critiques Lead or assist in lectures on color theory and painting techniques Manage assignments Studio management and monitoring Advise students 2009 Teaching Assistant, Collage/Assemblage, Joel Carreiro, Hunter College, NYC. Participate in group and individual critiques Manage assignments Studio management 1999-2004 The Alpha Workshops, 245 West 29th Street, 14th Floor New York, New York 10001 • Decorative Artist • Art Instructor in NYS sponsored education division, emphasis on color theory/painting.
Exhibitions: 2014 Brian Wood, solo show. Curator. (Mar.) 2013 Joel Carreiro, solo show. Curator. (Nov.) 2013 1). All of the Above, Openings NYC, Group show. Curator. (Sept.) 2013 Openings Members Exhibition. St. Francis College, Brooklyn, NY. Group Show. 2012 Frenzy into Folly, Openings NYC, Curator/exhibitor. Group Show. 2012 Delaware Valley Arts Alliance, Narrowsburg, NY. Solo show. 2011 Cohen Gallery, Goggle Arts Center, Reading, PA. Group show. 2011 Thunder Above the Clouds, Group show. Openings NYC, NYC. 2011 22nd Invitational Salon Exhibition of Small Works, New Arts Program, Kutztown, PA 2011 Recyclables / art made from recycled materials. Hudson Guild Gallery II, NYC. Group Show. 2011 LiloVeve Gallery, Brooklyn, NY. Group Show 2010 Accepted, Re-title.com juried web registry. 2010 Hunter College MFA Thesis Exhibition, Group Show 2009 Soft Box, Queens NYC, Group Show. 2009 Alchemy. Hudson Guild Gallery, NYC, Group Show 2007 BFA Degree Show, Bertha & Karl Leubsdorf Gallery, NY, NY. 2006 Inner Visions, Group Show, Local Project, Long Island City, NYC 2005-2006 Undergraduate Show, Hunter College, NYC. Group Show. 2004 Fading Ad Gallery, Brooklyn, NY. Group Show.. 2001 The Actor's Fund, NYC. 2001 Art for Heart, NYC. Group Show. 1984 Avenue A Restaurant & Gallery, NYC. Group Show.
Awards: 2010 Hunter College Nominee Joan Mitchell Graduate Studies Award 2010 Graf Travel Grant, Hunter College, NYC 2009 Provost's Graduate Studies Award, Hunter College, NYC 2007 David & Sadie Klau Foundation Fellowship, Hunter College, NYC 2007 The Somerville Art Prize, Hunter College, NYC 2006 The Tom Woods Award, Hunter College, NYC
Residencies and Panels: 2013 EXIT STRATA PRESENTS :: EXHIBIT A :: RE/PRODUCTION and RE/PRESENTATION - Panelist 2013 Openings NY, St. Mary's on the Lake, Lake George, NY. 2012 Openings NY, St. Mary's on the Lake, Lake George, NY. 2011 Openings NY, St. Mary's on the Lake, Lake George, NY.
Publications: 2011 New Arts Alive, BCTV, Kutztown, PA. Television interview. 2010 Hunter College 2010 Thesis Exhibition catalog 2004 A&U Magazine, April 2004, Issue #114
Related Experience: 1980s-early 1990s: Under the performing name of Michael London: Recording artist with Dream Records (12" single released 1987), cast member at various downtown performance spaces such as The Pyramid Club, 8BC, The Kitchen. I worked with theatrical group Tweed and directors Kestutis Nakas, Kevin Maloney, and Mark Oates. I worked with many artists such as John Kelly, Ethel Eichelberger, Stephen Pell, Brian Butterick, and others.