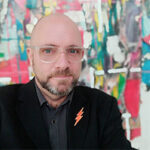 Micheal Swank
b.1970
Micheal LeRoy Swank | graduated from The School of the Art Institute of Chicago with a BFA – Printmaking, and Design in 1998. In his design career, he has been Art Director for California Tan (packaging), San Francisco Examiner (Hearst), Miller Huber Marketing, Joie de Vivre Hotels, S.F. Business Times, Disney, Dance Magazine, Pasadena Weekly, and others.
Micheal began to teach Graphic and Web Design in 2001 and decided to pursue teaching as a full-time profession. In 2006, he completed his Masters in Technology from Pepperdine University, Malibu, CA. He led within the design education community as Academic Department Director, Graphic Design and Web Design Interactive Medias at the Art Institute of California Inland Empire, Art Institute of California San Francisco, and Associate Dean of Academics Art Institute of Houston – North.
In January 2012, after a significant car accident caused him to reflect on his dreams to pursue his art, he left his position as Dean to live abroad, travel, learn, create, and reignite his passion for art. He has since lived in China, Mexico City DF; after spending two years focussing his practice in Ventura, CA Micheal relocated to Mexico City permanently in 2018. In 2019 Micheal opened PRPG.mx (Proyectos Residencia y Proyectos Galeria MX) to create a sense of community between the artists of Mexico and the rest of the world with an emphasis on amplifying the stories of the queer community.
Read Less Read More
I decollage, photograph, gather, reconstruct, revitalize, and present the materials as a dialogue; traditional materials vs. alternative, commercial vs. the streets, fear vs. strength, stigma vs. exaltation in art. I am engaged in guerilla warfare in the streets of Mexico City (DF) for survival, but not against you or the elements, against myself.
The prolific walls of disposable paper propaganda in the Mexico City streets reconnect the act of creation with life. The propaganda mirrors the immediacy of the process, acting as an anthropological snapshot and dialogue between the art and the audience. I am embarked on a path fighting invisible demons, conversing with angels, and end in transfiguration.
My work is attitude transformed into authentic form, located to create dialogue, and engaged in ideology supporting transformation. I am the Queer Alchemist.