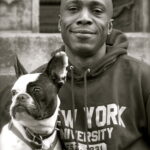 "Play is the highest form of research…"
Albert Einstein said this – and truly his philosophy inspires Noël's passion for research and design of interaction activities and experiences. Noël's quest toward his Master of Arts in Digital Media Design for Learning at The Steinhardt School in New York University has evolved into the founding of PLAYTESTERS LLC in 2012, to serve as a precursor and studio for the design of wearable technologies.
Noël's graduate research and teaching interests span wearable technology designs for consumer domains, serious game-based learning, and designs for digital interactions. He is a former New York City Special Needs Educator, with a Bachelor of Science in Psychology. Noël also is a teaching artist and games-for-learning researcher. When he unplugs from his always-on technology, Noël can be found teaching yoga, biking through the streets of Prospect Heights, Brooklyn, or walking beside his playful French bulldog - Kyo.
"I got up at 6am for my quest the first morning in Sao Paulo, Brazil to find Beco do Batman, translated as Batman's Alley. Located in the Vila Madalena neighborhood. This alley was my threshold to an amazing discovery of graffiti art. Every wall and home is covered with vibrant art - with varying styles. It was mind-blowing to see so many unique styles of art being compacted into a small alley. This liminal zone is a comic landscape in which the normal rules and mores of neighborhood are suspended, thus allowing for transformation and new confluences to happen with unconstrained art. What's more amazing about this alley is that the art is constantly changed by an anonymous community of artist. New art is always painted over the old ones so that new styles can be displayed. This easily could mean that these pictures, taken back in 2011, are already updated."
Read Less Read More
Liminality in Context of Design "Here it was the work of Blacks that sustained the nobility and prosperity of Brazil for centuries, without fail; it was as a result of their work that we have scientific institutions, letters, arts, commerce, industry, etc. Therefore, they have played an outstanding role as a factor in Brazilian civilization... Brazil has two great glories: the bounty of its soil and the talent of the Mestiço." - Manuel Querino, 1923
"The liminal, the self-centered (as being centered in oneself), the self-created: these are forms of divinity, subjective self-expression, and effective creativity." - Noël 2013
Highlights of Qualifications: • 10+ years of professional experience combined in the Private, Public and Education sector • R&D experience in the Serious Game industry • Ability to explain and apply design principles to complex problems • Special Needs Educator with teaching experience in the United States, Brazil and Kenya • I am articulate in advancing this passion, and am happy to work both independently and as part of a design team
Education: Master of Arts (May 2014): Digital Media Design for Learning The Steinhardt School at New York University: New York, New York Specializations Focus: Wearable Technology & Game-Based Learning; Advanced Cognitive Science; Technology for Museums & Public Spaces; Narrative Learning; Architecture of Media Learning Environments.
Bachelor of Science (May 1993): Psychology State University of New York at Old Westbury: New York, New York Specializations Focus: User Experience and Research; Child/Adolescent Psychology; Adulthood and Aging-Psychology; Creative Art Therapy.
Relevant Academic Experience: Game Ambassador: June 2012 9th Annual Games for Change Festival: New York, New York Assisted Games for Change Senior Game Producer at NYU Law School in producing the Teaching Game Design to Youth section of workshops, designed to introduce educators to the use of game-design programs.
Games User Researcher: September 2011 – January 2012 E-Line Media: New York, New York Internship: Served with Project Manager to complete in-house usability research of new and existing games. Made suggestions and contributed to the overall success of a rapid, full-scale digital game production titled "The Jordan Project."
Cameraman/Director: November 25 – 27th 2011 New York Historical Society: New York, New York Internship: Directed and recorded family stories in the Recording Studio of the DiMenna Children's History Museum. Narratives debuted in the Screening Room at the Barbara K. Lipman Children's History Library.
Instructional Designer / Co-Producer: September 2011 – December 2011 Educational Video Center: New York, New York Internship: Designed and co-produced a youth documentary titled "A Clouded View" which explored teen smoking that premiered at the Time Warner Center in New York City on January 2012.
Summary of Professional Experience: Research Assistant: January 2013 – Present Eugenio Maria de Hostos Community College: Bronx, New York Assist 2012 State Professor of the Year Professor Rees Shad in the rollout plans of a new Game-Design Lab. Work with Professor Catherine Lewis to execute a $610,000 NSF grant for "Designing Future for Games: Games for Multi-Media." Create web content. Research, develop and design The Games Library database.
Licensed Special Needs Educator: January 1998 – June 2010 New York City Department of Education: New York, New York Worked to enhance portfolio assessments for children in grades 6 through 12 using Howard Gardner's Theory of Multiple Intelligences. Trained in curriculum design methodology with New York Teaching Fellows. Led interactive Pre-GED class for adults at Prospect Heights High School.
Consultant Education Specialist: February 2005 – July 2007 The Children's Aid Society: New York, New York Gauged interactive curriculum for four unique Pregnancy Prevention programs. Managed and implemented program support for at-risk youth, and after-school curriculum. Represented students with special education needs, and advocated for families in disciplinary hearings and evaluations. Supervised monitoring of Dr. Michael Carrera's programs via an integrated information technology platform.
Health Care Program Planner Analyst: September 1990 – August 1997 New York City Health and Hospital Corporation: New York, New York Interned with Dr. Billy E. Jones to execute mental health training, rollout plan and user assessments to identify unmet needs of homeless individuals, and families in New York State city-funded mental health programs and shelters. Supervised a department of 14 mental health professionals, including addiction counselors and medical staff. Independently designed intake/psychosocial procedures for Cumberland Treatment Center and Hospital in downtown Brooklyn, New York.
Technical Skills: User Centered Design Digital Ethnography Sketching Interaction Design Wearable Technology Design Photography UX Design Storyboards Game Design Wireframes Web Content Creation Narrative Design Prototypes ADDIE LD Principles Task flow mapping Persona creation Curriculum Design Visual Design Apple Mac/iOS Survey Design Games Research Observational studies Microsoft Suite (Mac) Web 2.0 fluency