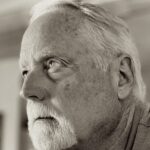 Patric Stillman
b.1962
The Intersection of Portraiture, Identity and History.
Patric Stillman (he/him) is a visual artist using art to create connections for the LGBTQIA+ community through humanizing history and uncovering the complexities of identity. He is known for the Radical Faerie-themed Brotherhood Tarot and his artistic achievements include having exhibited at the Musée du Louvre, SCOPE Miami Beach, Visual AIDS NYC, ArtShare LA and San Diego History Center. His work has appeared in the pages of Boston Pride Guides, RFD Magazine and Chelsea Station Magazine. He creates out of The Studio Door, an art gallery with artist studios that he founded.

Read Less Read More
MY ARTISTRY.
With a belief that we connect ourselves with the world in a meaningful way through creativity, I offer my growing body of work as a cis gender gay man to a new generation of LGBTQ+ people in the hope of encouraging them to embrace their uniqueness and create their own paradigms.
I have begun work on an immersive installation of paintings and sculptures that will illuminate the past to encourage discussion. The project will tie our contemporary world with the community of the past to show that there has always been courageous proud people living their truth. To be unveiled in 2023.
CONVERSATION STARTER.
Knowledge is power. LGBTQIA+ history has often been hidden and distorted throughout history. Through my historic portraits, I hope to illuminate the past and encourage discussion. Our community founders are complex people, sometimes flawed and products of their times. I paint them to remember their successes and to teach us about who we are as a community. I stand behind their multi-layered humanity.

PERSONAL NOTE.
Stillman came out as a young man and found himself in a world coming to terms with a new disease that would become known as AIDS. He lost he first boyfriend and a best friend to AIDS in the early years of the disease. This redirected his creative career to be of service to the community with Shanti in San Francisco, Homestead Hospice and Shelter in Los Angeles, and Townspeople in San Diego.
In 2005, after losing a dear friend who committed suicide in part due to struggles with AIDS, Stillman went through difficult period of his own that ended in his being hospitalized in critical condition with meningitis and seroconverted to HIV. With the gentle support of loved ones, he found an inner strength to embrace what he considers a second life, focused on visual art. He now lives with Danne Sadler, his partner for 17 years, in San Diego.

GROUP SHOWS
2018
Oct - Nov 2018 POS•I•TIV•I•TY, Perimeter Gallery at ArtShare LA
Sept - Nov 2108 Noel Coward's Blithe Spirit, North Coast Repertory Theater, Solana Beach, CA
Aug - Sept 2018 Fun Home, San Diego Repertory Theater, San Diego, CA
August 2018 - 2018 California Open Exhibition, TAG Gallery, Los Angeles, CA
August 2018 The Fool's Journey Through Life, The Studio Door, San Diego, CA
July 2018 - June 2019 San Diego LGBTQ+, History, Struggles and Triumphs, San Diego History Center, San Diego, CA
June 2018 Artists' Resistance, ArtShare LA at Angel City Brewery DTLA
January 2018 Transcend and Transform, Visual AIDS, New York City (Curated Online Invitational)
2017
October 2017 - January 2018 The Very Best of OMA Artist Alliance 2017, L Street Fine Art Gallery, San Diego, CA (Juried)
November 2017 Art Riot, Escondido Arts Partnership, Escondido, CA (Juried)
November 2017 San Diego Museum of Art Artist Guild, San Diego, CA (Juried)
July 2017 Portraits, Escondido Arts Partnership Municipall Gallery, Escondido, CA
March - August 2017 OMA Artist Alliance at the Museum 2017, Oceanside Museum of Arts, Oceanside, CA (Juried)
February 2017 Documents and Pictures: Poway Performing Arts, Poway, CA (Juried)
2016
December 2016 Studio Artists of The Studio Door, City of Encinitas, Encinitas, CA (Juried Exhibition)
June 2016 San Diego Museum of Art Artist Guild Member Exhibition (Juried), Spanish Village, San Diego, CA
May 2016 Photographers Exhibition in conjunction with North Park Festival of the Arts, The Studio Door, San Diego, CA
April/May 2016 50 TO WATCH (Juried Biennial Regional Exhibition/ National Publication), The Studio Door, San Diego, CA
- Juried by Jenna S. Jacobs - Curatorial Manager, Museum of Contemporary Art San Diego and
- Christine Knoke - Director of Exhibitions and Chief Curator / Mingei International Museum: Balboa Park, San Diego
February 2016 Artist Portfolio Magazine 5th Anniversary Exhibition, Online
2015
December 2015 See/Me Final Exhibition (Photography), Scope Art Miami during Art Basil, Miami, FL (Invitational)
October 2015 Empyrean Artifacts, Venus Studios Art Supply, Palm Desert, CA
July 2015 5th Annual Exposure Exhibition (Photography), Musée du Louvre, Paris, France
July 2015 Artists of North Park 2015, Expressive Arts Gallery, San Diego, CA
July 2015 Art of Pride, Balboa Park, San Diego, CA
July 2015 LGBT Family Unit, Space 4 Art, San Diego, CA
March 2015 Studio Artists Exhibition [30 Block North Park Art Night], The Studio Door, San Diego
January 2015 Pop Up Gallery [Ray at Night], San Diego Art Department, San Diego, CA
2014
November 2014 Ray Street Artists Farewell, The Studio Door, San Diego, CA (Invitational)
August 2014 Art Walk San Diego, Liberty Station, San Diego, CA (Juried)
April 2014 Art Walk San Diego, Little Italy, San Diego, CA (Juried)
Mar 2014 1st Annual Art in the Garden, La Jolla, CA (Invited)
Jan/Feb 2014 Regional Show, San Diego Art Institute, Balboa Park, San Diego, CA (Juried)
2013
July 2013 Art of Pride, Balboa Park, San Diego, CA - Juried 1st Prize (Juried)
July/August 2013 Ray Street Artists, Museum of the Living Artist, Balboa Park, San Diego, CA
May/June 2013 Ray Street Artists, San Diego Art Department, San Diego, CA
SOLO EXHIBITS
January/May 2018 ANCESTRAL MEMORIES • North Park Main Street, San Diego, CA
July 2017 PERSON PLACE OR THING • The Studio Door, San Diego, CA
February 2016 BROTHERHOOD • San Diego Pride Offices, San Diego, CA
April/May 2015 City of Solana Beach: City Hall Gallery, Solana Beach, CA
June/July 2013 BROTHERHOOD • San Diego Art Institute, San Diego, CA
COLLECTIONS
Reubens Collection - San Diego, CA
Souder - von Behren Collection - Palm Desert, CA
Paparella Collection - Paradise Valley, AZ
Kocon Collection - Belle Plaine, MN
OF NOTE
Boston Pride Guide 2018 featured artwork along with article "Its About Time" written by Don Gorton
2018 Artie Award presented by Mission Federal ArtWalk for community activism in the arts
The Business of Art Scholarship Mentor, Mission Federal Artwork 2017
Published in 50 TO WATCH, The Studio Door, 2016
Named 2015 Mentor of the Year by Professional Artist Magazine, April/May 2016
Commissioned for MILK LOVES ART by Got Milk? [Charity: Camp Ronald McDonald for Good Times], 2015/2016
Published in Ray Street Artists, San Diego Art Department, 2013
Author of BROTHERHOOD TAROT COMPANION
Digital Photography & Publisher of BROTHERHOOD TAROT
JUROR
March 2018 Spanish Village Art Center Spring Membership, Balboa Park, San Diego, CA
January 2017 • Thumbprint Gallery @ URBN, North Park, San Diego
December 2016 • Summation 2016, Escondido Arts Partnership Municipall Gallery
June 2016 • Student Craft Exhibition 2016, Mingei International Museum, Balboa Park
March 2016 • International Online Exhibition 2016, San Diego Museum of Art Artist Guild
March 2016 • Top 100 Exhibition 2016, Southwestern Artists Association, Spanish Village, Balboa Park
February - July 2016 • Curated local LGBT artists for solo exhibitions at San Diego Pride offices
COMMUNITY
2017 Member, Athenaeum Music and Arts Library
2017 Member, Escondido Arts Partnership
2015 - Current Member, The San Diego Museum of Art Artist Guild
2015 - Current Member, Oceanside Museum of Art Artist Alliance
2015 - Current Member, San Diego Museum of Art
2015 - Current Board Director, North Park Main Street
2014 - Current Member, North Park Main Street
2014 - Current Owner, The Studio Door
2014 - Current Member, San Diego Regional Arts Coalition
2014 - Current Member, GSDBA
2012 - Current Member, San Diego Art Institute
2012 - 14 Member Artist of San Diego Art Institute - North Park
2012 - 14 Chair, Board of Directors of Film Consortium Foundation,
2003 - 14 Entrepreneur for Artist Development and Arts Initiatives (formerly Oak Grove Oracle)
2013 Executive Director of Space 4 Art
1997-2013 Co-Founder and Chief Operating Officer of Media Arts Center San Diego