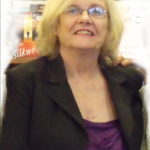 Author and artist, Pat writes under the names P.A. Brown and GK Parker and produces art under Patrica Anne. Born in one of the coldest cities in Canada she escaped at 22, fleeing to Los Angeles. Her adventures there led to L.A. Heat
She painted before she wrote her first book at 17. She read her first positive gay book then, The Lord Won't Mind, by Gordon Merrick, and had her eyes opened. Eventually, she ended up in Hawaii where she kindled her love of painting marine wildlife which remains to this day. Back in Canada, she buckled down and started producing books seriously resulting in a multitude of books coming out in the following years. She was diagnosed HIV+ in 1994.
She took up painting again seriously in 2015 and has produced a modest body of work and sold a few pieces. Now she tries to balance her visual arts with the written word.
Read Less Read More
Seeks to capture the truth found in the natural world in her paintings.