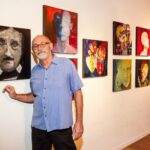 Patrick Brown
b.1953
BIOGRAPHY
Patrick Neil Brown was born in East Saint Louis, Illinois in 1953.
After high school Patrick received The John Danforth Award for outstanding qualities of leadership and was granted a scholastic scholarship to JeffersonCollege. He was inducted into the Phi Theta Kappa scholastic fraternity in his first year of attendance. He later attended HendrixCollege and the University of Memphis on financial grants and scholarship for his academic achievements.
Patrick concentrated on painting throughout his college education and went on to work in the graphic arts field where he was the US Creative Director for the London, UK based Wace Corporation. His love of painting continued throughout his career and in 2011 he made the decision to paint full time.
Patrick's success has led to numerous exhibitions and has a dedicated following of collectors. In 2016 he was named one of Southern California's top 50 Artists to Watch. He is a member of The Frank Moore Archive Project as well as Visual AIDS in New York City. He has also developed a working relationship with ABC Television where his paintings are used on the sets of various programs.
Patrick currently lives and works in Escondido, California and is a member of the Escondido Arts Partnership and Municipal Gallery. His work can be viewed on his website www.patricknbrown.net
Read Less Read More
ARTIST STATEMENT
The process and result of making art is more to me than the creation of a beautiful or pleasing replication of an image. As with life, not all images, realistic or abstract are always pleasant. As a painter, one of my goals is to allow the viewer a glimpse of my inner feelings and exposure to a part of my soul.
The last year has brought to life the resurgence of racism and hate crimes against women, people of color, religious differences and the LGBTQ communities to name a few. People are uncertain of their future and fear is embedded in so many. I can't ignore these issues and they have dominated the subject of my most recent paintings. This new series of paintings began with a more personal reflection of family dynamics titled Sins of the Father. What was intended to be a short series of portraits reflecting the tensions between father and son has taken on a broader perspective of issues. The painting titled Sleep Children is a memorial to the fallen LGBTQ victims of the Orlando shooting. The more historic paintings including Memphis 1968 and Malcolm are a reflection on the Black Lives Matter movement and police shootings.
The paintings are all oil, bold in color with multiple layers of thin washes to build depth. Many combine texture that lends itself to the physical tension of the subjects. The popular issues are evolving into more complex subliminal images with visceral emotion and rawness that address the mental stability and sense of place in the subjects. The world has given me a never ending source of subject and the series will continue into 2017.
+
2017, Abstract and Surrealism, Escondido Arts Partnership Municipal Gallery, Escondido, California USA
2017, Out There, Gallery 825, Los Angeles, California, USA
2017, Proud, The Studio Door, San Diego, California, USA
2017, 4-UP Invitational, The Studio Door, San Diego, California, USA
2017, Postcards from the Edge, Metro Pictures, New York, New York, USA
2017, Panache Invitational, Escondido Arts Partnership Municipal Gallery, Escondido, California, USA
2016, 50 to Watch, The Studio Door, San Diego, California, USA
2016, Beyond the Blue, Art on 30th, San Diego, California, USA
2016, Local Inspiration, Art on 30th, San Diego, California, USA
2016, The Poe Show National Exhibition, Art on 30th, San Diego, California, USA
2016, Art Riot, Escondido Arts Partnership Municipal Gallery, Escondido, California, USA
2016, Abstract and Surrealism, Escondido Arts Partnership Municipal Gallery, Escondido, California, USA
2016, Contemporary Realism, Escondido Arts Partnership Municipal Gallery, Escondido, California, USA
2016, Summation. Escondido Arts Partnership Municipal Gallery, Escondido, California, USA
2015, Postcards from the Edge, Sikkema Jenkins, New York, New York, USA
2015, Panache Invitational, Escondido Arts Partnership Municipal Gallery, Escondido, California, USA
2015, Contemporary Realism, Municipal Gallery, Escondido, California, USA
2015, Betty Woodaman Memorial Exhibit, Municipal Gallery, Escondido, California, USA
2015, Art Riot, Municipal Gallery, Escondido, California, USA
2015, Untitled, Bard Hall Gallery, San Diego California, USA
2015, Certificate in Recognition for Commitment to the Arts, California Legislature Assembly, Sacramento, California, USA
2014, Postcards from the Edge, Sikkema Jenkins, New York, New York, USA
2014, Postcards from the Edge, Luhring Augustine, New York, New York, USA
2014, Untitled, San Diego Pride Center, San Diego, California, USA
2014, Summation, Municipal Gallery, Escondido, California, USA
2013, Postcards from the Edge, Cheim & Read, New York, New York, USA
2012 – 2015, Nashville Television Series, ABC Television, Nashville, TN