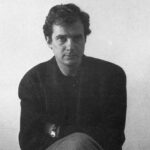 Pepe Espaliú is one of the leading Spanish artists of the 1980's. Painter, sculptor, illustrator and writer, he develops a coherent and meaningful work very closely associated to his reflections on his own identity. His work is thanks to one of the most profound conceptualisations of living with AIDS, which caused his death and which he boldly accepted on an artistic level and where he produced some of his most important works.
The Museo Nacional Centro de Arte Reina Sofía paid homage to Espaliú with a small exhibition in 1994, a year after his death. On this occasion more than one hundred pieces have been gathered in a retrospective which reviews his work from 1986 to 1993 in-depth. In his work the artist from Cordoba addresses issues such as the coexistence between suffering and pleasure, the mask, isolation or injury, which brings him conceptually closer to works by Louise Bourgeois in sculptural terms, while his pictorial language shows influences of names like Walter Dahn and Jiøi Georg Dokoupil. In his paintings Para asesinar una risa, La lealtad del verdugo o The visionary discipline, all from 1986, Espaliú records the face as an expression of identity, a theme that he emphasises from 1986 to 1990. In this sense the series of four pieces Pas de masque (1988), made with fashionably designed patterned paper, discursively join those others of the same year called Santos and made from leather. To them are added the sculptures made from turtle shells, ropes and knots clapper-less bells.
After learning about his illness in 1990 Espaliú's work is given an even greater symbolism, through sculptures of cages and crutches, the artist refers to his condition and extrapolates it into a shared universal order. This conception of struggle against the lack of communication regarding AIDS reaches its peak in perhaps one of Espaliú's most recognised pieces, Carrying Project which is embodied in the sculpture shaped as iron palanquin, chairs covered by a closed box and actions related to the act of transportation. In San Sebastian the artist walks through the streets of the city carried in the arms of his friends from the film festival headquarters to the Town Hall and in Madrid from Parliament building to the Museo Reina Sofía.
The most spiritual aspect of his work is related to his interest in the whirling dervishes which represent a journey towards perfection and to whom he refers in his piece El nido (1993) presented in the Dutch town of Arnhem. Espaliú climbs a platform built on top of a tree, spins while he undresses and drops his clothes on the floor, constructing a symbolic shelter. The carnal and the psychic, the interior and exterior are in this way linked to action, alluding to the extreme sensitivity of the artist to the more intimate nature of the humane.
This tribute page was created by Visual AIDS.
Read Less Read More