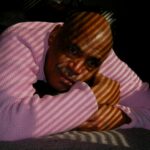 Peter Robinson, Jr.
b.1946
Check out my portfolio of images at:
http://www.saatchionline.com/P... serious amateur who was passionately called to photography late in life, Peter James Robinson Jr. looks to document his curious vision of beauty and truth melding digital photographs with today's image technology. A native of New York, he uses his vision to capture city and rural life, street art, gay culture and travel images from the 30 years of travelling around the world as an international trade expert.
Recent images concentrate on florals, still life, city life and portraits.He recently introduced a series of images taken from his apartment window view of Tribeca and the Hudson River entitled Life Through A Window. This series document over seven years of cityscape/landscapes from one particular location.
Read Less Read More
Gallery35 – NYC – SmallWorks IV & V; Palettes for Pipes; Beauty of the Earth GMHC Art & AIDS – NYC –2009/ 2010 – Loving Life; 2011 – 30 Years; 2012 – It's Not Over; 2013 – Perceptions of Life. N.Y.C. Photography Club – NYC – 2013 – Group Show Rogue Gallery Space, NYC – 2010 – International Juried Show Six by Six Gallery NYC – 2009 &2010 – Group Show Midoma - June 2013 - Living Out Loud - Pride Exhibition
His works have been purchased by collectors worldwide. His exhibitions include; Six-by-Six Gallery [NYC], Gallery35 [NYC], Roque Space [NYC], JADITE Gallery [NYC], Site 109 Gallery [NYC], Midoma [NYC], GMHC [NYC], Torpedo Factory Art Center [Arlington, VA], The Lesbian, Gay, Bisexual & Transgender Community Center [NYC], NR Council of the Arts [New Rochelle, NY], Pride Hall 83 [Sydney, Australia] Leslie+Lohman Prince Street Project Space [NYC] and the Leslie-Lohman Museum of Gay and Lesbian Art [NYC].