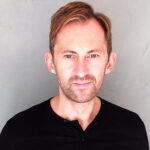 Philippe Halaburda
b.1972
My name is Philippe Halaburda.
I was born in 1972 in France. I studied Graphic Design in Paris and graduated in 1996 with an honors degree. I have since developed my own style of abstract painting and I currently live in the South of France.
As an artist, I paint on many different supports developing my personal abstraction vision using acrylic paints, as well as textures and other mediums.
My work as an artist is a seductive, beautifully shot study of the relationship between collective and personal crises.
My innovative abstraction is looking for an extraordinary refinement and oscillates between binary opposites: imagination and observation, lucidity and frenzy. She blurs the boundaries between painting, drawing, and writing while preserving a high degree of love of the colors.
My paintings are also in a constant state of flux and suggest different things to each of us. My work revolves around the great universal themes of love, art, beauty, and death.I see them as a springboard for the imagination.
Lines, shapes and paint stains can suggest me some things I would never consciously designed.
I find my singular way into a landscape of social and human tensions.
Read Less Read More
Born in France, Philippe Halaburda studied Graphic Design in Paris, graduating in 1996. For years, this contemporary artist has painted on a variety of supports, his personal style expressed through acrylic paints and other mediums. He says:
"When I begin a new painting, I never know what will be my creative composition. I discover it along the way and I put myself in danger, out of balance, keeping my mind opened: I always start by painting several canvases simultaneously to further accentuate this state. They define themselves by their dominant colors, the distribution of space, and even in the first brush stroke."
Halaburda's brushstrokes are unexpected, strong, and playful, and in making them he relies on techniques of improvisation and free movement. Constantly in flux and evocatively free of allegory or narrative, they nevertheless seem to occupy the border between figuration and abstraction. Of this intriguing balance, Halaburda says, "I want my paintings to have a real presence, to magnify a space, to own it. When I begin a new painting, I never know what will happen. I discover along the way and try to be my own audience."
It is a way to view and fix his thoughts flow using lines, shapes, signs and codes. One can also think of imaginary landscapes that illustrate this and are freed of physical laws: gravitation, levitation, balances, trajectories, order... His compositions are fragmented, tectonic, in fragile balance, with bright colors such as those used for geological surveys and the establishment of maps.
Halaburda has created the expression of mental topography, a way to design new alphabet, to develop a full-fledged language with a unique writing, original and lively.
Since many years, he has developed his own pictural and textual language, always in movement and evolving. It comes to interior and exterior, orientation, respective positions of the objects and human in space, of self and otherness.
For the moment, he is still a human being that takes you into another new art world: "The Linalainen artspheer".
Philippe Halaburda lives in the South of France. His work is included in private and public collections throughout Europe, North America, Canada, and Australia.
Education
First personnal exhibition / 1996 / Paris / France
Academy of Graphic design and visual Arts / EDTA SORNAS / 1995 / Paris / France
Bachelor Literary A1 / 1993 / Coulommiers / France
Experience
Painter and Creative Art Director in graphic design / current position
Creative Art Director / 2010 > 2014 / Marseille / France
Graphic Designer / 2004 > 2009 / Marseille / France
Selected Solo Exhbitions
Peyton Wright gallery / Santa Fe / NM, USA
Fux & Friends / Orangerie, Hellbrunn / Salzbourg / Austria
Le Radar Artothèque / Bayeux / France
Swiss Medias Centre SSR / Berne / Switzerland
Selected Collective Exhbitions
The Lion Heart gallery / Pound Ridge, New York / NY, USA
La Nuit de la Belle Etoile / Lounge of the Grand Palais of Paris / Paris / France
Fux & Friends / Orangerie, Hellbrunn / Salzbourg / Austria
Artfair / SMART / Aix-en-Provence / France
Artfair / PULS'ART / Le Mans / France
Artfair / SIAC / Marseille / France
Artistic residencies (2015)
NARS Foundation / Spring 2015 / New York / NY, USA
Rivoli 59 / Fall 2015 / Paris / France