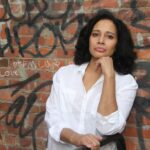 Phyllis Sanfiorenzo is a Painter and Sculptor, born and raised in East Harlem, N.Y. Growing up she wanted to follow in her mother's footsteps, Artist Ivonne Salaberrios.
After acquiring a basic art education at the high school of Art & Design and Fashion Institute of Technology, she married and raised two children. During this time she designed and freelanced art for individuals, at F.I.T., and a Solo Calendar.
Phyllis studied at The New School, SVA, New York Studio School and ASL of New York. She works in representational narrative form in both painting and sculpture. Phyllis has designed illustrations for theatre companies, nonprofits, and her public monumental sculpture, Atabey's Land Haven on display at Riverside Park South, N.Y.C in 2014-15. Phyllis is currently working on her graphic novel based on her original script.
Her studio work continues to foster community pride among the common Latino communites and to symbolize icons of struggle, reflecting aspirations, spirituality, and the gritty realities we all face.
Phyllis actively works in her small studio in the East Village, NYC.
"I have always been interested in anthropology and all the folklore that come with it. Growing up I was taught the falsehoods of conventional education. I want to communicate the other stories. My work is about creating my own portal of possible truths through painting and sculpture. When people see my work, I want them to understand the relevance of the stories of other cultures, opening the possibilities to tolerating the icons and heroes of others."- Phyllis Sanfiorenzo
Read Less Read More
In my work I often enjoy the fusion of nature and period fashion. Indigenous themes and magical realism is what interests me and drives my inspiration. My goal is self-determination by embracing my culture's diversity through the medium of sculpture, and I look forward to sharing this experience with the public.