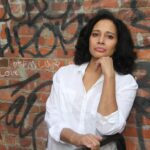 Phyllis Sanfiorenzo is a Painter and Sculptor, born and raised in East Harlem, N.Y. Growing up she wanted to follow in her mother's footsteps, Artist Ivonne Salaberrios.
After acquiring a basic art education at the high school of Art & Design and Fashion Institute of Technology, she married and raised two children. During this time she designed and freelanced art for individuals, at F.I.T., and a Solo Calendar.
Phyllis studied at The New School, SVA, New York Studio School and ASL of New York. She works in representational narrative form in both painting and sculpture. Phyllis has designed illustrations for theatre companies, nonprofits, and her public monumental sculpture, Atabey's Land Haven on display at Riverside Park South, N.Y.C in 2014-15. Phyllis is currently working on her graphic novel based on her original script.
Her studio work continues to foster community pride among the common Latino communites and to symbolize icons of struggle, reflecting aspirations, spirituality, and the gritty realities we all face.
Phyllis actively works in her small studio in the East Village, NYC.
"I have always been interested in anthropology and all the folklore that come with it. Growing up I was taught the falsehoods of conventional education. I want to communicate the other stories. My work is about creating my own portal of possible truths through painting and sculpture. When people see my work, I want them to understand the relevance of the stories of other cultures, opening the possibilities to tolerating the icons and heroes of others."- Phyllis Sanfiorenzo
Read Less Read More
Phyllis Sanfiorenzo is a Painter and Sculptor based in New York City.
All of her life she has juggled the unique complexities of the urban experience, whilst raising her two children and practicing her craft in both theatre and art making.
She honed her design skills with an eclectic overview of some of the finest schools in New York, including the Fashion Institute of Technology, School of Visual Arts, and the New School.
Phyllis has designed illustrations for theatre companies, not-for-profits and has had her
monumental sculpture"Atabeys Land Haven" installed at Riverside Park for the Art Students
League in New York.
Currently her studio practice consists of storytelling through graphic novel arts and sculpture.
Recently she debuted a cartoon named "LUCIA'- an animation for young and family audiences
that continues the artistic legacy of her deceased mother Ivonne Salaberrios.
"When people see my work, I want them to understand the relevance of the stories of other
cultures, opening the possibilities to tolerating the icons and heroes of others." - Phyllis
Sanfiorenzo