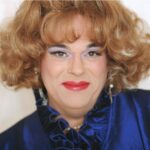 Rev. Yolanda
b.1960
Rev.Yolanda – is a 2015 inductee into The Blues Hall of Fame and 2015/ 2014 recipient of The MAC Award (Manhattan Association of Cabarets and Clubs) for Best Drag Artist, as well as a standing member of the GLBT Hall of Fame.
An accomplished, award-winning singer/songwriter, performance artist, visual artist, and Interfaith Minister, Rev. Yolanda was born in Muscle Shoals, Alabama, as Roger Anthony Mapes.
Rev. Roger Anthony Yolanda Mapes was inducted into the GLBT Hall of Fame for Activism, Art Excellence and Community Awareness in 2005. It was around this time that Roger/Yolanda began a spiritual journey which led him/her to One Spirit Interfaith Seminary where s/he became Rev.Yolanda, an ordained Interfaith Minister in June of 2011. That same year the song "I Wanna Know" from her cd House of Joy made it to #1 on the OutVoice Music Charts and "Love Divine" was included on a special first edition collection of GLBT Christian singer/songwriters.
Rev. Yolanda's Old Time Gospel Hour -the live, autobiographical Gospel Music show was realized in January of 2012 and the release of yet another album
Country Gospel Kirtan followed shortly thereafter. "Home" from that album was voted the #1 song of 2013 on the OutVoice Music Charts.
Rev. Yolanda has also been seen on "Family Stories" for the Discovery Channel playing Vivian Wheeler (the current Guiness Book of World Record-holder for bearded lady), and a feature film about his/her life by director Ike Allen was released in JUNE 2015. Visit www.goyolanda.com for more information on the movie.
******************************************************************************************
Rev.Yolanda is an eccentric, and ecstatic performer with a southern rock, country gospel style. He brings his message of Non Duality into every event by merging GLBT and Mainstream Popular Culture with Integrated Spirituality. With a soulful voice, a message of oneness, great costumes, and a wicked sense of humor, his shows and CDs emphasize love, beautiful melodies, interesting stories, and a bit of inspiration.
- See more at: http://yolanda.net/bio
Read Less Read More
Building Bridges of Love and Compassion between Diverse Communities through the Power of Inspirational Performance Art/Entertainment.
Rev. Roger Anthony Yolanda Mapes
333 86th Street, Brooklyn, NY, 11209
Phone: 718-921-1102
Cell: same as above
email: yolanda@yolanda.net websites: http://www.yolanda.net
Objective:

Education:

Ordained Interfaith Minister, One Spirit Interfaith Seminary, NYC, 2011
Concentrations: The GLBT experience within Spirituality, Ritual/Performance Art
Final Project: The creation of live theater piece and full length documentary: "Rev. Yolanda's Old Time Gospel Hour"
MFA, Performance Art, Vermont College of Norwich University, Montpelier VT, 1995
Concentrations: Gender Identity/Body Modification/Musical Works
Thesis Project: "Yolanda The Transgender Warrior in Love"
Certificate of Completion, The American Musical and Dramatic Academy (AMDA), NYC, 1985
Concentration: Musical Theater
MA, Theater Performance, University of Memphis, Memphis, TN, 1983. Concentration: Musical Theater and Oral Interpretation of Literature
Performance Art Experience:

*Creator, Producer, and Star of "Rev. Yolanda's Old Time Gospel Hour" 2011 - 2015
Created and Performed in NYC at The Duplex Upstairs Theater.
Performed across the country at various churches, music festivals, and LGBT organizations.
*Co-Creator and Star of "Rev. Yolanda's Old Time Gospel Hour-The Movie", 2013-2014. To be released in 2015 by Avaiya Media- Ike Allen filmmaker. This is a docu-drama-comedy about the life and ministry of transcendent gender being, Rev. Yolanda, and husband Rev. Glen Ganaway. Currently the trailer and preview can be seen online: http://www.goyolanda.com

*Creator, and Lead Performer of "Rev. Yolanda's Country Gospel Kirtan"- a CD and live gender bending musical Interfaith spiritual celebration 2013 – 2014.
Created and performed at Easton Mountain Retreat-Upstate NY -Performed in NYC,CT, and NC in various churches.
*Co-Creator and Co-Lead Performer of "Interfaith Taize" -an interfaith spiritual celebration focusing on original chant, kirtan, and call and response singing, 2009-2011. Created and performed monthly at One Spirit Interfaith Seminary and NYC area churches.
*Creator and Lead performer of "House of Joy" -a CD and live gender bending musical celebration of The Profane and The Divine, 2009-2011. Created and performed at The Laurie Beechman Theater, NYC. Performed at various LGBT PRIDE Celebrations across the US in association with the musical touring group BEARAPALOOZA.
*Collaborator and Co-Lead Performer in "What's The Name Of The Dame" - documentary about gender bending performance artists who cover ABBA songs, 2004. Created by FigJam Productions and shown across the country in Film Festivals. The CD that accompanied this project is called ABBALICIOUS.
*Creator and Star of "Yolanda and The Plastic Family" a jazz fusion rock pop gender bending musical "happening" 1997-2009. This was born out of my MFA experience/ performance art experience with The Radical Faeries in Vermont, and lasted in various forms with differing cast members for over 10 years. We were a band -but also a gender bending performance art experience that took the audience on a journey of self discovery unique to the watcher/participant and the specific performance space. It consisted of all original music written by me and encompassed several CD projects as well as live performances. Our years together included gigs at Wigstock, monthly NYC gigs at CBGB's & Meow Mix, and our last show at The Laurie Beechman Theater in 2009.
Awards and Honors:
GLBT Hall of Fame- standing member
Blues Hall of Fame- standing member
2 time MAC Award winner, 2014/15
CD "Country Gospel Kirtan" considered for Grammy Nomination 2013
Outvoice Award, 2013, 2012, 2011
Pride In The Arts Award, 2010, 2002
Outmusician of The Year, 2003
Skills and Qualifications:
I was born in Muscle Shoals Alabama- The Hit Recording Capitol of The World, and I started performing professionally when I was 16 yrs old with a Gospel Bluegrass band called The Amplified New Testament. My life journey, artistic path, sexual orientation, gender identity, and spiritual path are all woven together in a fabric of Sacred Mystery. I am totally fascinated with how The LGBT Community intersects with the "Traditional Spiritual Community" in this new century. I feel it is my "calling" to provoke conversation and help build bridges of love and understanding between diverse communities -spiritual and otherwise- that are not used to communicating with each other in ways that create a space where nobody loses.
With this "calling" I have created a very successful live performance experience (and full length movie) called "Rev. Yolanda's Old Time Gospel Hour". It is NOT a parody nor a criticism of Christianity or Sexuality or Gender... rather it is an exploration of love and acceptance for all beings-using the genre of "Gospel/ Inspirational Music"... a genre that comes naturally to me, and that I have a great love for.
My goal in 2015 is to expand to TV and Music Video production. I am interested in reaching a larger audience through regular and innovative TV programming. Using my love for original and traditional Inspirational music, and my love for the American family and especially children, my intention is to create a family friendly celebratory experience. Hosted by me, Rev. Yolanda, a Transcendent Gendered legal Interfaith Minister and professional entertainer and my Husband Rev. Glen Ganaway, Certified Integral Mentor and Interfaith Minister, we will provide a musical variety and interview show. The show will feature uplifting music by me and my band The Yolandaleers (see video at my website www.yolanda.net) and also feature an interview by me and Glen with a real-life family and kids that shows the diverse nature of today's American Family. We want to interview Interfaith, Interracial, Non Traditional Sexual Orientations as well as the "Traditional All American Family." These interviews will consist of a finding common ground through conversation, holiday celebration and singing together. I call this project "Rev. Yolanda's Family Reunion".