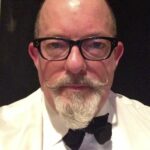 Robert Beard
b.1959
The small, jewel-toned watercolor and ink works on paper are an investigation of meandering lines that toy with the abstract shapes that stand-in as alternate ways of seeing air, earth, water and other forms found in nature. Mr Beard recently was awarded a residency at the world renowned artist colony, Cill Rialaig Project in County Kerry, Ireland. Beard has also created installation works, including "Thinking of You," a meditation on friends lost to AIDS, which appeared in Milan, Turin, and New York to unanimous critical acclaim. His work has been exhibited internationally at venues including the Chelsea Arts Club, London; the National Academy of Design & The Century Association, New York and he is currently preparing for various exhibitions.
Robert Beard lives in New York City
Read Less Read More
As a Fine artist organizations like Visual Aids provide stability and inclusiveness for me to create and support my career.
I have a few vocabularies of expression in my work.
1. small works on paper, originating from the landscape
2. Installation pieces
3. Video series investigating the mind and hypnosis and exposure
4. Photography investigating exposure
5. Ceramics
6. print making
One-man Exhibitions
Origins Gallery "Docklands", Dublin Ireland 2010
5+5 Gallery, New York 2006 Chelsea Arts Club, London 2004 Studio 241, Hudson , NY 2004 Fly Art Limited, New York, NY 2002 Cathedral of St George, Cape Town, South Africa, 1999 Murazzi del Po, Turin, July 1996 Spazio Opos, Milan 1996 Triarc Space, New York City 1995 Stubbs Gallery, New York City 1994 Liberal Arts, Atlanta, Georgia 1994 Two Brydges Place, London 1993 Bruce Kelly/David Varnell, New York City 1991 The Space at Chatsworth, New York City 1990 Aronson Gallery, New York City 1988 Michelle Rosenfeld Fine Art, New York City 1986 Visual Arts Gallery, Athens, Georgia 1984

Group Exhibitions
"Abstractions" Wexford Ireland 2013 "View Four" Nichole Fiacco Gallery, Hudson, Ny 2010 "Stuyvesant train station, Stuyvesant, NY 2007"Archive Project," Alliance for the arts, New York, 2001, 2002, 2003 "Member show," Chelsea Arts Cub , London, 2004 "Visual AIDS" post card show, NYC 2001 , 2002, 2003, 2004, 2005, 2006 "Stubbs Books and Prints" New York 1995, 1996 "State Department Collection" Madrid, Spain 1991, 1992, 1993 "State Department Collection" The Republic of Ghana 1991, 1992, 1993 "Auction for Action" Act-Up benefit auction, Simon Watson, NYC 1989 "Slaves of New York Exhibition" The Gallery, New York 1989 "Staff Exhibition" National Academy of Design, New York 1988 "City for Sale Benefit Auction" The Municipal Art Society of New York, 1988 "Spring Art Show" Piedmont Driving Club, Atlanta, GA , 1986-1993, 1996. "Artists of The South" Rome, Italy 1984 "Juried Exhibition" Town Hall, Cortona, Italy 1983

Affiliations
Opos, Milan Murazzi del Po, Turin, Italy Percent for Art Program, Department of Cultural Affairs, City of New York The Department of State, Art in Embassy Program in: Washington, Ghana, Spain, Italy, Cameroon, and Gabon

Professional Affiliations
New York Artists Equity Visual Aids, New York Archive Project, New York Chelsea Arts Club, London New York State Council on the Arts Art in Embassy Program, United States Department of State

Representation
Anya von Gosseln Office for Art, Clonegal, County Wexford Republic of Ireland Tel 353 54 76 505