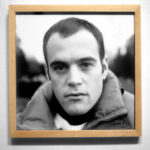 Robert Blanchon
1965–1999
Robert Blanchon was a conceptual and video artist whose work dealt with the subject of gay identity and AIDS.
Blanchon, born in Boston, studied at the Art Institute of Chicago. In 1990 he was among dozens of artists who created public billboards for the Art Against AIDS project in Chicago. His work was often notable for its sardonic wit, although his best-known piece was deeply personal: it combined a letter from Mr. Blanchon to his family telling them he was H.I.V.-positive with their long response. His most recent work dealt in more abstract ways with themes of love and isolation.
He had three solo New York exhibitions: at White Columns in Manhattan and at Moment Art in Brooklyn, both in 1995, and at Artists Space in Manhattan in 1994. He was included in numerous group shows, including ''Disappearing Acts'' at Bound and Bound and Leslie Tonkonow galleries in 1998 and ''Living Testament of the Blood Fairies'' at Artists Space in 1996.
Read Less Read More