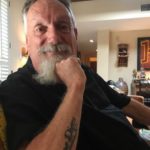 Robert Booker
b.1955
Graduate Augustana College, SD 1977; Post graduate work at the Minneapolis College of Art and Design, MN
Booker's artistic practice can currently be divided into two distinct areas each using specific media and tools. Since 2004 he has been investigating the use of a simple pod/lemon image. This image is found in a variety of two-dimensional works. Early work incorporated the use of tar, motor oil, ink, and acrylic on raw canvas. Later the image can be found on small birch panel pieces and large paper formats. The investigation of this simple image continues to today.
The second body of work investigates personal and social justice issues. His experience with HIV/AIDS and abuse comprises a significant portion of this body of work. More recently the topic of gun control and issues facing America have been topics ripe for investigation.
The works, created in a series format use similar techniques, materials, and design. The Gun Control series engaged viewers across the Phoenix valley with publically posted images, reaching beyond studio or gallery walls into the public domain. https://www.phoenixnewtimes.com/arts/who-placed-shooting-targets-in-downtown-phoenix-10478764
Read Less Read More
"Artists are truth-tellers, information providers and interpreters of the world around us. An Artist's response to the to the issues of today will provides vision and inquiry in a thoughtful and creative manner."
Exhibitions
Xico Inc., America Series, 2019
Herberger Theatre Center, Proudly I Stand Exhibit, 2019
First Studio Invitational, 2019
Artlink Juried Exhibition, 2019
Surprise Invitational-Arts HQ Gallery, 2018
Arizona State Fair, 2018
Icehouse Gallery, 2018
Exposed Gallery, 2018
Olney Gallery, World AIDS Day exhibition, 2016
Augustana College, Alumni Show, Union Gallery, 2013
Grand Avenue Festival, Citywide Studio Show, 2013
Eye Lounge, Benefit, 2012
Icehouse Group Show, 2010
Grand Avenue Festival, Citywide Studio Show, 2009
Bragg Pie Factory, Recycled Art Show, 2009
California Building – Minneapolis, MN, Studio Show 2004 and 2005
Residencies
Sedona Artist Colony 2017
Gallery representation
Exposed Gallery - Phoenix, Arizona