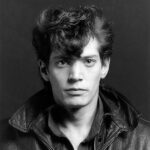 Robert Mapplethorpe
1946–1989
Robert Mapplethorpe (1946-1989) was born in New York. He earned a B.F.A. from Pratt Institute in Brooklyn, where he produced artwork in a variety of media, mainly collage. The shift to photography as Mapplethorpe's sole means of expression happened gradually during the mid-seventies. He took his first photographs of his close friend, the singer-artist-poet Patti Smith, using a Polaroid camera, and later became known for his portraits of composers, architects, socialites, stars of pornographic films, members of the S&M underground, and an array of other unique people, many of whom were personal friends.

Mapplethorpe had his first solo exhibition in New York in 1976. During the early 1980's, his photographs shifted to emphasize classical formal beauty, concentrating on statuesque male and female nudes, delicate flowers, still life, and formal portraits. In 1988, four major exhibitions of his work were organized by the Stedelijk Museum in Amsterdam, the Whitney Museum of American Art in New York, The Institute of Contemporary Art at University of Pennsylvania, Philadelphia, and the National Portrait Gallery in London. These exhibitions, and the controversial works they presented, sparked a larger international and ongoing debate about public funding for the arts, censorship and other First Amendment concerns, as well as the definition of that which is considered art.

Mapplethorpe died from AIDS on March 9, 1989, in Boston, at age 42. Since that time, his work has been the subject of numerous exhibitions in galleries and museums throughout the world, including major traveling retrospectives. Robert Mapplethorpe's work is widely collected, and he is considered by many art scholars to be among the most important American photographers of the latter half of the twentieth century.

For more information, please visit www.mapplethorpe.org.
Read Less Read More