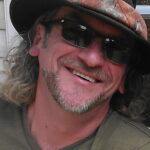 My name Robert James Murphy
I was diagnosed with HIV in the mid 90's and then diagnosed with full-blown AIDS New Years Eve 2001. I think in 2015 it is time to tell my personal legend. I am happy to say that I have gone into what I guess you call remission with help of great Doctors and care, informing myself, lots of medication and changing the way I think about things, I try to eat right and exercise and have a positive outlook. I am completely undetectable for the past 7 years. Now AIDS for me is not a terminal illness with death being the prize; it is now a chronic condition that requires regular checkups to be monitored.
I love the course and direction my work has taken since I was introduced to paper clay by Rosette Gault in 2009.My work is figurative; a freethinking expression of composition and form. There are no preliminary sketches.The body of work is the ideal behind the sketch.
Read Less Read More
How it begins: I use a combination of varying sizes of slab and coil and unconstrained inspired forms of thought which allows the imaginative hands to begin work.I start with a thought or concept, a picture, something in my minds' eye a patterns or theme that strike my fancy; I envision it and bring it into being. In this piece soon to be a collection of work, I am using a cone 5 papel porcelain paper clay and a variety of under glazes.This clay body allows for great flexibility in the way I conceptualize and construct my designs.The facial portraits are developed from a process that I discovered in high school; due to the unforgiving clay bodies of the time, I abandoned it.I did not touch clay again that is until 2009. Sense then and now in 2015 I continue to explore the medium of paper clay that has allowed me the freedom to create at will without the limitations of traditional clay.
By designing the piece from many different angles it allows me to create a variety of views that play with your perception and reflections & illusions of ones' imagination.