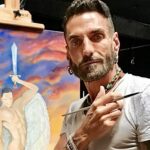 Rory Chrz
b.1962
A 27 year HIV/AIDS thriver, self taught artist. Art has always been my safe and soulful space.
It wasn't until a life threatening motorcycle accident which forced me through an extended recuperation period. At that time relearning how to walk was my only physical activity. What was exceptionally important to me was to be able to loose myself into the gratitude and beauty of life. Picking up canvas and paintbrush I began painting again after 35 years of not picking up a brush and paints.
Read Less Read More
To describe my art, it is much easier to describe my soul. For it is with this outward expression of my gifts I give you a view of my constant wonder, gratitude, and awe of what resonates deep within.
I cannot separate my spirituality and appreciation and knowledge of the Divine from my passion, it is within that I am truly inspired by the beauty I behold.
My hopes as an artist are to present to the viewer my truth in the wonders that surround us all. I hope that you find something that you're still recognizes and brings you back to the beauty of that which lies with in each of us