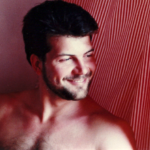 Learn more about the life and legacy of Ross Laycock through the "Carl George / Felix Gonzalez-Torres / Ross Laycock Archive at Visual AIDS": https://visualaids.org/projects/felix-gonzalez-torres-ross-laycock-carl-george-archive

Tribute to Ross Laycock in Milestones by Joe Clark:

The demon sommelier of Scaramouche, Ross Laycock, died from complications due to AIDS on Jan. 24, 1991.
It's hard to describe Ross fully because I entered his life only a few years ago, after he had already been diagnosed. I never knew him when he was well. But irrespective of AIDS, Ross' verve, humor, brains and wiles were all there during the time we were friends, and they are the cornerstones of everyone's memories of him.
I had the pleasure of minding Ross' home for several months in 1990 while he and his lover, Félix González-Torres, took a sojourn in California. Indeed, Ross' apartment, in an unswanky Polish section of Toronto, embodied his wide-ranging cultural sense. It was a feast for the senses, what with its kitschy/classy furniture, red boudoir walls, an original print of Piss Christ, a bookshelf full of volumes of poetry, cuisine and gay history, a lime-green-and-blue bedroom, and, of course, a Bang & Olufsen stereo. All those who saw his apartment felt that they had connected with Ross in some holographic way, even if they ultimately never met him. It's a testament to Ross' memory that everyone who visited his apartment mourned his loss, whether their link to Ross was strong or tenuous.
Like so many Canadians, Ross lived in varied parts of the country. Born in Calgary, Alberta, in 1959, he moved with his family to Norman Wells, Northwest Territories, in 1971. Spending his youth in the sparsely populated North was a source of Ross' unerringly apt judgment of character, his generosity, his openness; the harsh and beautiful Northern landscape also instilled in him a sometimes-alarmingly strong zest for life. Ross would later journey southward, stopping along the way in Edmonton, Vancouver, and Montreal, until he reached his real love, New York, in 1980.
There Ross' activities of attending school and working part-time were put into perspective by falling in love with Félix, who matched Ross' devotion with his own. To say that Félix and Ross were close would scarcely do them justice. Their lives would become intertwined like the strands of a helix.
But in 1983, Ross made the difficult decision to leave New York to study biochemistry and English at the University of Toronto, a combination only Ross could pull off. In his spare time, Ross weight-trained (with excellent results) and began working at Scaramouche, a fine restaurant in Toronto, a wine steward. He ultimately accumulated enough university credits to graduate but figured that he needn't bother with the formality.
Trouble began in the spring of 1988, when Ross was forced to leave Scaramouche because of his worsening health.
Though having AIDS slowed him down, it did not stop him. Ross was a consistent worker at all levels in AIDS Action Now, the Toronto activist group. As a member of the steering committee, he sat through meeting after meeting; as an infuriated person with AIDS, he participated in some of AIDS Action Now's better demonstrations. Will I ever forget the look of power, rage and triumph on his face back in 1988 as he joined 300 activists in storming the stage of the V International Conference on AIDS in Montreal?
But that kind of passion was commonplace for Ross, whose demise leaves a colossal void in the lives of his many friends, his three sisters and his mother. All of us now face life without the Ross who we could always count on to be himself. And our hearts extend to Félix, the most important person in Ross' life: Be strong and press on for both of you.
Ross, we know you're better off now, wherever you are, but we sure wish that we could have found a way to keep you with us. We miss you.

Read Less Read More