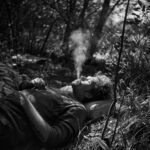 Sean Black
b.1969
Born and raised in Central Florida, Sean Black is a Los Angeles-based artist, journalist and educator whose photographs and writings document and explore life and the human experience. His interest within the nexus of social activism and visual art drives his work with the intent of presenting thought-provoking content.
He holds an MA in Photography from California State University San Bernardino (2009) and an MFA from the University of Miami (2014). He is a senior editor with A&U: America's AIDS Magazine where he has worked since 2009 interviewing and photographing icons, artists, philanthropists and advocates united in the fight to end AIDS. He teaches both analog and digital-based photographic courses throughout Southern California, as well as the medium's brief history.
Read Less Read More
SEAN BLACK
EDUCATION:
2014 Master of Fine Arts, Photography, University of Miami, Miami, FL, MFA 05/2014
2010 Master of Art, Studio Art/Photography, California StateUniversity, San Bernardino, CA, 12/ 2010
2009 California State Certificate, Business Skills for the Artist, CSUSB, San Bernardino, CA, 06/2009
2004 Bachelors of Science, Information Technology, Barry University, Miami, FL, BSIT 12/2004
EXPERIENCE:
2015 – Present Adjunct Instructor, Glendale Community College, Glendale, CA
2015 – Present Adjunct Instructor, Chaffey College, Rancho Cucamonga, CA
2015 – Present Adjunct Instructor, CaliforniaState University, San Bernardino, CA
2011 – 2014 Adjunct Instructor, Eastern Florida State College, Cocoa, FL
2011 – 2013 Lecturer/Teaching Assistant,University of Miami, Miami, FL
2014 – Present Senior Editor, A&U America's AIDS Magazine, Albany, NY
2012 – 2014 Editor at Large, A&U America's AIDS Magazine, Albany, NY
2009 – 2012 Contributing Writer/Photographer, A&U America's AIDS Magazine, Albany, NY
SELECTED EXHIBITIONS:
2015 Naked, University of Miami Gallery at the Wynwood Building, Miami, FL, July – Aug
2015 Life In Real Time, SNAP!, Orlando, FL, May 1 – Jul 25 curated by P. and Holly Kahn
2014 Art = Antidote To Hate, Miramar Cultural Center, Miramar, FL, Oct 29 – Dec 5, curator Byron Swart
2014 Family Matters Revisited, ASU Northlight Gallery, Tempe,AZ, Oct 16- Nov 29, curator Elizabeth Allen
2014 Evolve, ArtShare-LA, Los Angeles, CA, Jul 9- 14, curated by Louis "Kengi" Carr
2014 Eastern Florida State University, Summer Faculty Show, Cocoa, FL, Jul 1 - Aug 30
2014 Art=Antidote to Hate, Artserve/Stonewall National Museum, Fort Lauderdale, FL, Jun 5 - 27
2014 Illumine, Darkroom Gallery, Essex Jct.,VT, Mar 6 - 30, juried by Robert Hirsch
2013 New York Photo Awards Finalists Exhibition, Powerhouse Arena, Brooklyn, NY, Jan 15 - Feb 24, 2014
2013 Human Nature, MFA Thesis Exhibition,University of Miami Gallery, Miami, FL, Nov 5 - 22
2013 Faces & Facades, Solo Exhibition, Seafair Mega Yacht, Miami, FL, Sep 21 – Oct 28
2013 Faces of Continuum, LGBT Visitor Center, City Hall, Miami Beach, FL Sep 1 – Oct 31, juried by John Coppola and Peter Meyerhoefer
2013 MFA Candidates Juried Exhibition 2013, First Place, Lowe Art Museum, University of Miami, Miami, FL, May 9 – June 2, juried by Hunter Braithwaite
2013 (InSIDE)/Out! Art as Healing Therapy, ArtServe, Ft. Lauderdale, FL May 9 – 31
2013 ArtExplosion 2013, ArtsUnited, Ft. Lauderdale, FL, April 6 – 26
2013 VISUAL AIDS 15th Postcards From the Edge, New York, NYJan 25 - 27, hosted by Sikkema & Co.
2012 5th Annual Cane Fair, University of Miami's Wynwood Gallery, Miami, FL, Dec 5, 2012 – Jan 25, 2013, curated by Milagros Cardoso
2012 Art Basel (Art Miami) University of Miami Booth, Miami, FL, Dec 5 – 9, curator Dr. Nathan Timpano
2012 Capturing Coral Gables, First Place Portraits and People's Choice/Best of Show, Coral Gables Art Museum, Coral Gables, FL, Jul 6 – 24
2012 DOT Photozine Group Show, Lifework Gallery, Palm Springs, CA, Jun 9 – Jul 7
2012 Annual Juried Student Exhibition, Lowe Art Museum, Miami, FL, Apr 13 – May 9, 2012,
2012 Voyeurism and Intimacy, RayKo Photo Center, San Francisco, CA – Best of Show Mar 15 – Apr 6, SPE Member Showjuried and curated by Todd Hido
2012 VISUAL AIDS 14th Postcards From the Edge, New York, NYJan 6-8, hosted by Cheim & Read
2011 DOT at NY Delight, Pomona, CA, December 10, 2010, curated by Andi Campognone
2011 Art Basel (Art Miami), University of Miami Booth, Miami, FL, Dec 1 – 4
2010 The Night My Father Cried, Robert V. Fullerton Art Museum, San Bernardino, CA, Nov 10 - 21
2010 The Art of Photography, Lyceum Theatre Gallery, San Diego, CA, Aug 28 – Nov 7, juried by Natasha Egan
2010 Emerging (I) 5, The Creative Center for Photography, Los Angeles, CA, Apr 8 – Jun 5
2009 Shock and Awe, Gatov Gallery, California State University Long Beach, CA, Nov 15 - 19
2009 New York Photo Festival curated by William A. Ewing, Director, Musée de l'Elysée, May 13-17
2009 Extreme Places, California Museum of Photography curator Reggie Woolery, Riverside, CA Apr 2 – May 30
2009 Emerging (I) 4, The Creative Center for Photography, Los Angeles, CA, Apr 23 – Jun 12
PUBLISHED WORKS:
2009 - Present A&U America's AIDS Magazine, various features including Alicia Keys and cover stories to
include: Louise Hay, Johnny Galecki, Cloris Leachman, Regina King, Judge Glenda Hatchett,
Kelly Price, John Waters, Martha Wash, Mya, Congresswoman Barbara Lee, Debra Messing,
Kylie Minogue, Phill Wilson, Laverne Cox, Suzanne Somers and Donna Mills
2015 Gladys Magazine, Gilles Marini, Beauty Issue
2015 SHEEN Magazine, September/October 2015, Sheryl Lee Ralph "Timeless Beauty" Coverstory
2015 EBONY, June 2015, Sheryl Lee Ralph "A Diva Makes A Difference"
2014 The Miami Rail, Summer 2014, "Tree Bed"
2014 Martha Wash, "I'm Not Coming Down" (remixes) album covers (original and Power Mixes)
2013 Martha Wash, "It's My Time" (remixes) single remixed by Papercha$er album cover
2013 New Times, Broward-Palm Beach, June 2013, Chef Robin Almodovar
2013 Identities Now, Contemporary Portraiture Fine Art Book, Peter Hay Halpert Fine Art, New York, NY
2013 Martha Wash, "Something Good" album cover
2012 NewStatesman, November 23 – 29, 2012, "In Love With A Death Row Dandy" Feature Shoot
2012 PDN.edu, Volume 11/Issue 1/Spring 2012, Project X Feature
2011 DOT Photozine, May 2011, Issue 1, Feature on "Dad" series, www.dotphotozine.com
2010 AfterImage Magazine, The Journal of Media Arts and Cultural Criticism, Inklight, Spring 2010
LECTURES & ARTIST TALKS:
2015 SNAP! Orlando, FL, "Human Nature" July 25th, 2015 via Skype
2014 Museum of Art Fort Lauderdale, Fort Lauderdale, FL, "Human Nature" Aug 16th, 2014
2012 Museum of Contemporary Art, North Miami, FL, "Dad"
AWARDS & HONORS:
2015 Assistant, Jim Goldberg/Magnum for Postcards From America, Inland Empire, CA
2014 Assistant, Richard Renaldi for Manhattan Sunday, Roseland Ballroom, NYC, NY
2014 Finalist, New York Photo Awards Juried Exhibition, Powerhouse Arena, Brooklyn, NY
2013 Workshop Assistant, Maggie Steber/Leica event at Art Basel Miami, Miami, FL
2013 Printer, Mark Mann, Hahnemuhle/Leica event at Art Basel Miami, Miami, FL
2013 First Place, MFA Candidates Juried Exhibition, Lowe Art Museum, juried by Hunter Braithwaite
2013 Max and Peggy Krillof Graduate Travel Scholarship, University of Miami (2011, 2012 and 2013)
2013 GAFAC Graduate Scholarship, University of Miami (2012 and 2013)
2012 People's Choice/Best of Show and First Place (Portraits), Capturing Coral Gables
2012 Best of Show, Society of Photographic Educators National Member Show juried by Todd Hido
2012 Museum of Contemporary Art, "Dad"Presentation, North Miami, FL
2011 Full, 3-Year Scholarship, University of Miami, Department of Art & Art History, MFA Program
2010 Beverly and Sam Maloof Art Scholarship
2010 Workshop Assistant for Joel Meyerowitz, ICP Travel Workshop Cape Cod, Sep 10-12
2010 Assistant for David Lena, College of the Desert Shoot, Palm Desert, CA, June 4
2009 SPE West Student Scholarship Recipient for the December 2009 Conference in Oakhurst, CA
2009 Robert V. Fullerton Art Museum Art History Award, "The Death and (After) Life of a Photograph" Essay June 18, 2009
2009 Photographer's Forum, Spring Photography Contest 2009, Honorable Mention/Top 100 Finalist
2008 – PresentWorkshop Assistant, Palm Springs Photo Festival: (Greg Gorman 2014, Amy Arbus
2011, Joel Meyerowitz 2010, Steve McCurry 2009, Bruce Davidson 2008)
MEMBERSHIPS:
2015 – Present Museum of Contemporary Art, Los Angeles
2009 – Present Society for Photographic Education (SPE)