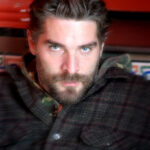 SHAWN PETERSON
Shawn Peterson was a visionary who created obsessive and eccentric works with peculiar materials and antiquated labor intensive techniques.
Essentially self taught, Shawn developed virtuosic skills in drawing, sculpting and creating assemblages that evolved out of his love of junk shops, flea markets, and all things forgotten.
An avid collector, he was fascinated with Victorian and depression era melancholic ephemera: circus posters, 19th century mourning objects, tramp art, and images of hustlers and Hollywood movie stars.
Born in rural Minnesota in 1966, he moved to New York City in 1985 to attend the School of Visual Arts.
Dropping out after a year, he subsequently worked as a go-go boy; model, prop maker, florist, gallery assistant, and a waiter at the famous Manhattan meat packing hang out Florent.
In 2002, he began an influential relationship with artist Frank Moore and worked as his assistant until Moore's death in 2004. Highly affected by this loss, he produced an elegiac body of work that was subsequently shown at Debs & Co. gallery.
Shawn was extremely prolific throughout his life, producing a wide variety of astonishing objects, using combinations of materials that approached alchemy: burnt matches, stuffed birds, glitter, tree fungus, candy wrappers, birch bark, butterflies, handmade mirrors, and lead paint chips are only a few of the materials used in his curious bricolage process.
An accomplished draftsman, he left behind folios of historic architectural drawings of city blocks and structures long since demolished and forgotten, and numerous loving portraits of faded movie starlets and has-beens.
Each image is infused with a dry, deadpan wit and haunted glamour that was heightened as his health declined.
Shawn died tragically of cancer at the age of 49 in 2016.
Read Less Read More