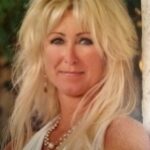 Sherry Harradence
b.1959
Sherry displays a natural talent in the Arts that has been evolving since early childhood. She doodled all over everything in the house and would sometimes be in trouble because of it. Her parents encouraged her to follow her dreams and were very supportive.
While she has had formal training, her style is fresh, unique as well as expressive. Her Mixed Media, Watercolours, Monoprints and Pastel paintings have been published as well as displayed in Private and Corporate Collections in Canada and the USA. She is a busy Real Estate Professional as well as an Art Teacher and enjoys helping others express themselves artisically. Sherry encourages her students to use any of her brushes, supplies and nothing is "off limits" in her studio. As Artists, you need to nurture, feed in order to grow. She feels very blessed, grounded and has a great sense of balance in her life.
Sherry is a proud Canadian, born in Pembroke, Ontario, Canada. Raised in Ontario as well as Western Provinces of British Columbia and Alberta. Her father served in the Canadian Armed Forces and the family moved around the country.
She moved to the US in 1993 to pursue a publicly traded, manufacturing business venture and has stayed here in Arizona ever since. She loves it in the south and feels she has the best of both.
Art /Business Studies Include: Okanagan College, Caribou College, SAIT, Yavapai College, Mesa Community College and numerous workshops in various mediums.
Galleries where I had my work and presently: Scottsdale, Arizona "On The Edge Gallery" Williams Lake, B.C., Revelstoke, B.C., Calgary, Alberta, Mesa, AZ and Prescott, AZ. Published in Creative Arts Magazines 2001 and up as well as Online Internet.
On a personal note: Lastly, I want to mention my late husband Bruce who was killed in a tragic accident in 2003. He was a great supporter of me and if it wasn't for him pushing me, I would not be painting today. Poor guy, I took over his basement with presses, kiln's, ceramics, welding you name it….He finally said that I could not do everything in mediums and that I had to pick one. I picked my Monoprint Press and think of him everytime I use it. He is always with me in my heart and spirits. Thank you and miss you so much.
Type:
Painting, Print Making, Mixed Media, Other
Style:
Abstract, Impressionist, Still Life, Landscape, Expressionist
Subject Matter:
Floral, Flowers, Nature, Landscape, Fruit, Figurative ~ ~ ~ ~ ~
On technique :
My husband bought my press back in the mid 90′s as a birthday gift and I truely love it. It does take up a lot of room because of the bed size and the turning wheel. Needs to be centered in the room to allow access from both ends and sides. I am like a kid at Christmas with every print, where I can't wait to see the pulled print from the plate. The press has pressure of 4000 psi and its unique impressions onto the paper is like no other, 'unique "one of a kind"… A paint brush could not duplicate the image from the pulled monoprint and that is why I love the printmaking. Its an original and no one can copy it…. (Manufacturer, Conrad Presses, Michigan)
The paper I like to use can be handmade, custom or printmaking papers designed for use of a press. Its fun to shop around the stores for beautiful paper and every state, province has so many art and stationery shops supplying unique papers. Myself, I am like a kid in the candy store shopping for supplies….lol In another blog I will give the recipe for making handmade paper out of your junk mail. Recyling is great and can enhance your picture like no other original.
Monoprints are fun to experiment with paint, ink, watercolors, oil pastels, explore different effects of adding and subtracting, anything goes and the attached monoprint "The Geranium" was created with rolling the brayer in the ink palette colors on the plexi-glass, then taking a credit card and sketching in the lines and difinition of the pot and leaves of the geraniums. The printmaking paper is soaked in a tub until it has the right absorbency of water. Because it absorbs so much and too wet for printing you need to use a towel to blot off the water for the right dampness and weight. Once my paper is just right, I then register the paper to the plexi-plate and then pull the blankets over for the press printing. Note, the attached print, I got from the plate two prints made, original and a ghost copy. Yeah!! It was a good day for a successful painting or paintings. You be the judge!! I welcome any questions and would love to hear from other printmaking artists or artists that want to learn or share.
Read Less Read More
Sherry's passion for the colors and forms of nature is expressed in her Mixed Media, Watercolors, Monoprints and Pastel drawings. She is inspired and challenged by the ancient Monoprint/Relief Printing process used by the old masters to bring forth creations that celebrate the beauty of florals, the designs of nature and the changes of season. Each piece of art is an authentic original that cannot be duplicated in any way.
http://www.thebody.com/visualaids/current/postcards2006.html