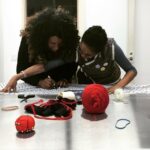 Shirlene Cooper became an Artist+ Member of Visual AIDS in 2013. She felt an instant attraction to the LOVE POSITIVE WOMEN Annual Valentine's Day paper-making event when collaborating with other self-identifying women working to build community and fight stigma.
She is a recipient of the Visual AIDS Material Grant and used her grant to start the Women's Empowerment and Art Therapy Group. The group is based on The Three A's: AIDS, Activism, and Art. As a long-term survivor, Shirlene has lived with HIV for 22 years. She started her career as a peer educator in hospitals and communities where HIV and AIDS were on the rise. She later became an outreach worker for a syringe exchange program to raise awareness of the importance of clean needle exchange in reducing exposure to HIV. Afterward, Shirlene became a community organizer to advocate for more and better affordable housing for low-income people living with HIV and AIDS. She recruited and mobilized over 3,000 members at the New York City AIDS Housing Network. Through her advocacy, Shirlene persevered and became a Lead Organizer, Deputy Director, then Co-Executive Director of the New York City AIDS Housing Network. Shirlene is the first African American woman living with AIDS to sit on the New York City Council's HIV/AIDS Service Administrations Advisory Board. She has maintained her position for 14 years, served three terms under New York City Mayor, Michael Bloomberg, and currently Mayor Bill De Blasio. During her tenure, Shirlene launched campaigns such as "HASA for All" and a 30% Rent Cap that supports over 41,000 New Yorkers living with HIV and AIDS.
Shirlene's outreach extends to local, regional, national, and international communities. She attended five International AIDS Conferences in Thailand, Mexico, United States, South Africa, and the Netherlands. She was a member of Grassroots Global Justice Alliance and attended three World Social Forums representing global AIDS leadership in Venezuela, Kenya, and Guatemala.
Currently, Shirlene has traveled to 46 of the United States and 31 countries in her life's work to bring an end to the HIV and AIDS epidemic. She has been featured on the front page of the NY Daily News, appeared in articles in the New York Times, and her story landed her on the cover of POZ Magazine. Shirlene has also received many awards and recognition for her HIV/AIDS advocacy, which include: Peer Educator Award (2003), Power Academy Award (2005), Merit Recipient for The Volvo for Life Awards (2006), Risk Takers Awards (2007), Being The Difference Novel Biography (2008), The Millie Ortiz Award (2013), and 2020 Leading Women Award (2017).
Read Less Read More
I'm positively a woman yearning for a positive plan only in a positive way can we positively make it today.