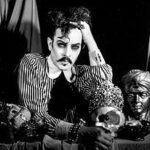 Steven Arnold was an American artist and protege of Salvador Dali, who worked as a visionary filmmaker, photographer, painter, illustrator, set and costume designer, and assemblage artist.
Arnold received his BFA and MFA from the San Francisco Art Institute, and was influential in shaping the countercultural psychedelic scene of the city in the 1960's. In March 1968, the creation of Arnold's weekly midnight movie showcases called Nocturnal Dreamshows in San Francisco helped launch The Cockettes, a psychedelic drag troupe into fame. Arnold created some of the first rock posters for the famed Matrix nightclub, which was later credited for originating the "San Francisco sound" of the psychedelic '60s.
After the release of the film Luminous Procuress in 1971, Arnold attracted the attention of Salvador Dali and so would begin a life long engagement.
From 1982-89, Steven Arnold found his niche, designing and shooting tableau-vivants for four books, leaving thousands of living tableau photographs and negatives unpublished. Deeply influenced by Jungian archetypes, Eastern philosophy, and ancient ritual, Arnold understood visual production as a key to the spiritual and subconscious, depicting alternative worlds with dramatic style and sly humor across numerous mediums. Arnold spoke about his practice of drawing as a means of making visible his dreams and compared his photography to religious meditation.
Arnold was diagnosed with AIDS in 1988 at the height of his popularity and died in 1994.
This tribute page was created by Visual AIDS.
Read Less Read More