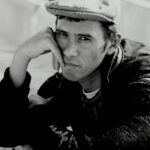 Teiji Furuhashi
1960–1995
Teiji Furuhashi (1960–1995) was an influential Japanese media artist, well known as a founding member of the artist collective Dumb Type. Furuhashi was born in Kyoto and became involved with the arts from a young age. His father was a nihon-ga painter and kimono designer, and his grandmother ran a geisha house, but Furuhashi gravitated toward music, performing as a drummer in several rock bands in his youth.
In 1984 he co-founded Dumb Type with a dozen of his classmates at Kyoto City University of the Arts. "Our idea was to combine everything," Furuhashi later reflected, "film, people, painting, sculpture, music—so it became like theater. We named it Dumb Type because we didn't want to use any dialogue in our performance… We doubted words were the main form of interpersonal communication, and we wanted to explore deeper levels."
Dumb Type quickly garnered attention for their innovative use of media and new technology. Their experimental theater projects combined dance and performance with ambitious multimedia installations, exploring the changing nature of everyday life amidst the economic growth of Japan in the 1980s and the rise of digital technology. Performances like Pleasure Life (1988) and pH (1990) pitted performers' bodies against elaborate mechanical sets. These projects toured internationally, both as live performances and as sculptural installations exhibited in galleries.
In the mid-1980s, Furuhashi spent several months living in New York, becoming part of the burgeoning East Village nightlife scene and performing with a friend as the "Kookie Kabuki Sisters" at the Pyramid Club. Furuhashi brought his drag performances back to Japan, infusing the ethos of downtown New York into his monthly drag party, "Diamonds Are Forever," which continues to this day.
In 1992, Furuhashi wrote a letter to his friends and collaborators to announce that he was living with HIV. At the time, there was very little public conversation about AIDS in Japan, and Furuhashi eventually became one of the first to publicly share his HIV status in the country. His letter prompted Dumb Type to produce a major performance confronting the AIDS epidemic. The resulting work, S/N (1994) was developed through workshops with local activists and challenged Japan's silence about AIDS with explicit discussion of gay identity, stigma, sex work, and border politics.
As Furuhashi continued to spend time in New York, he facilitated connections between activists and artists in the United States and Japan. For the 1994 International AIDS Conference in Yokohama, Furuhashi worked with Visual AIDS to bring the public slideshow project Electric Blanket to Japan, where it was presented as part of an outdoor party called the "Love Ball."
While working with Dumb Type, Furuhashi also made his own artwork. In 1985, his video Conversation Styles won first prize at the Tokyo International Video Biennale and was later acquired by Barbara London for the Museum of Modern Art. In 1994, he produced Lovers, an immersive, room-sized video installation in collaboration with Canon ArtLAB. Life-size projections of Furuhashi and other members of Dumb Type float through the room, at times overlapping or embracing each other, but ultimately dissolving into darkness. Lovers was included in the 1995 exhibition Video Spaces at MoMA just before Furuhashi died of an AIDS-related illness on October 29, 1995.
Profile photo by Tony Fong, courtesy of Dumb Type
Lovers video courtesy of Yukiko Shikata
Read Less Read More
Selected Bibliography:
"Interview with Teiji Furuhashi" by Carol Lufty

The Dumb Type Reader, edited by Peter Eckersall, Edward Scheer, and Fujii Shintaro
Dumb Type: 1984 2019, published by Kawade Shobo Shinsha Ltd., 2019
Catalog for Video Spaces: Eight Installations, curated by Barbara London, 1995
"Teiji Furuhashi 1960–95" by Barbara London, Millennium Film Journal, no. 29 (Fall 1996)
"Teiji Furuhashi: Diamonds Are Forever" by Barbara London, Art Asia Pacific 51 (Winter 2006): 92–97.
"The Future Is Now—Kyoto's Dumb Type," by Steven Durland, High Performance 13 (Summer 1999)
Video/Art: The First Fifty Years by Barbara London, published by Phaidon, 2020
Theorizing the Angura Space: Avant-garde Performance and Politics in Japan, 1960-2000 by Peter Eckersall, published by Brill, 2006