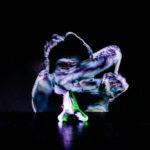 TERESA FABIÃO is a movement artist, educator and artivist, with a a Master's Degree in Dance and a PhD in Performing Arts on dance as a form of embodied intercultural/ interpersonal dialogue.
A bridge-builder and change-maker from Portugal, for 8 years based in Bahia/ Brazil, she has a extensive path in different body, therapeutical and artistic approaches.
Artivist for human rights & HIV/AIDS awareness, Teresa is the co-founder of VIRAL, the first collective that approaches art as a space for empowerment and resignification of the collective imaginary around HIV/ AIDS in Portugal.
In 2021 she was supported by EYE Programm of European Union with a project that puts in dialogue art, health and education. Her most recent performance "UNA", about her ten year journey living with HIV was supported by Gulbenkian Foundation, GDA Foundation, and was co-produced by Teatro Municipal da Guarda.
In 2022, Teresa creates ´IMUNE´, a social intervention project, that was awarded by PARTIS ´Art for Social Change´, a three year programm from Gulbenkian Foundation.
Teresa received several grants and performed/ taught in Portugal, Brazil, Spain, Italy, Colombia, Benin, Cape Verde, USA. She is the first woman in Portugal to bring HIV to her artistic discourse.
Read Less Read More
My path in activism goes beyond the cause of HIV/ AIDS. It stands for human rights.
I´m committed with the construction of a space for diversity. I stand for the dissolution of oppression, rejection, guilt, moralism, secrecy, denial of pleasure and invisibility associated with the female body, and so many other oppressed bodies. In my art and workshops, I intend to inspire others to return to the body, to the sense of belonging, to empathy, to an experience of shared humanity.
As HIV/ AIDS doesn´t choose gender, class, skin color, I believe this cause has the potencial of being a crossroads and a "connector" between diferent counterhegemony causes.

* "What moves me is to create a space for greater awareness, dialogue, diversity and collective transformation. For me, movement is a somatic, therapeutic and artistic experience, a way to create meaning, intention and be the change we want to see in the world." *