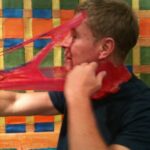 Tiger Milner is a fine artist, performance artist, graphic designer, display designer, and writer. The artist is currently developing a series of mixed media image transfers that are part collage, part print making, and part painting. The images are lifted from his controversial and ever popular videos that are xtube favorites and mainstay of his worldwide blog TigerMilner.com which is viewed by over 35,000 men per month. The artist plans to use this audience to promote his position in support of Treatment as Prevention.
The artist holds a Master of Fine Arts in Media Design from Full Sail University in Orlando FL and a Bachelor of Liberal Studies in Painting from Florida Gulf Coast University. He is currently working on adding video to the mix and is developing a new series of self portraits that border on pornography and detail what sexual obsessions led to his infection with HIV. He has three adopted children and a white Labrador Retriever named Pink.
Read Less Read More
The images relate to self-acceptance and the shedding of layers of false identity. Life is a process and self-acceptance is as well. If we are lucky, we achieve it. Otherwise, deception creates walls that prevent us from knowing our true selves or each other. Metaphorically, these images reveal that process and capture the sense of relief that comes with acknowledging, and ultimately loving, the person we were created to be.
Tiger Milner, Artist
facebook.com/tigermilner www.tigermilner.blogspot.com
EDUCATION
Master of Fine Arts in Media Design, Full Sail University, 2011, Orlando, FL Bachelor of Liberal Studies-Art, Florida Gulf Coast University, 2004, Fort Myers, FL Magna Cum Laude. Associate in Arts, Valencia Community College, 1983, Orlando, FL
HONORS and AWARDS
Florida Division of Cultural Affairs 2010 Artist Retreat Grant Visual Artist of the Year, Angel of the Arts Awards, 2008, Alliance for the Arts Individual Artist Grant, City of Fort. Myers, 2007, 2008 Florida Division of Cultural Affairs 2007 Artist Retreat Grant Art House Foundation Scholarship, 2005 Art House Foundation Scholarship, 2003 Florida Watercolor Society Tuition Grant, Single winner of statewide honor, 2003 Henderson, Franklin, Starns and Holt Emerging Artist Award, Juried Award, 2002
SOLO EXHIBITS
2012 Arts for ACT Gallery, Fort Myers, FL 2009 Six Degrees Exhibitions, Naples, FL 2008 Space 39 Gallery, Fort Myers, FL 
 2008 Ferrari Gallery, Cape Coral, FL 
 2007 Arts for ACT Gallery, Fort Myers, FL 

GROUP SHOWS
2012 "Paradox," The Art Link Gallery, Miami, FL "4", Florida Gulf Coast University Gallery, Fort Myers, FL "Breaking Boundaries", The Art Center, Sarasota, FL "Group Show", Jai Gallery, Orlando, FL "Grant Recipients", Harborside Convention Center, Ft. Myers, FL "Hot", Florida Gulf Coast University Gallery, Ft Myers, FL
2011 "Skin 2011", Daas Gallery, Fort Myers, FL "On Making History", Sidney and Berne Davis Art Center, Fort Myers, FL "Arts for ACT Preview Exhibit", Bob Raushenberg Gallery, Fort Myers, FL "A Community of Artists", Florida Gulf Coast University Gallery, Fort Myers, FL
2010 Alliance for the Arts, Fort Myers, FL The Object Show, Invitational Group Show. Bob Rauschenberg Gallery, Edison College, Fort Myers, FL Arts for ACT Preview Exhibit, Group Show of work to be auctioned at the annual Arts for ACT Auction Von Liebig Art Center, Naples, FL The 45th Annual Founders Juried Awards Exhibition
2009 Florida Gulf Coast University Art Gallery, Fort Myers, FL The Formers, Group Show Six Degrees Exhibitions, Naples, FL Abstract Impact, Three person show Florida West Arts, Estero, FL Artescape, Juried exhibition
2008 Ferrari Gallery, Cape Coral, FL A Man's Place…, Solo Show Space 39 Gallery, Fort Myers, FL Dark Arts 2, Group show Alliance for the Arts, Fort Myers, FL Too Hot to Handle, Juried Show Bob Rauschenberg Gallery, Edison College, Fort Myers, FL Arts for ACT Preview Exhibit, Group Show of work to be auctioned at the annual Arts for ACT Auction Art League of Bonita Springs, Florida Artists, Juried Show Beth El Invitational, Ft. Myers, FL Temple Beth El, Invitational Group Sho Space 39 Gallery, Fort Myers, FL Women's Work, Solo show
2007 Red Bull The Art of Can, River East Art Center, Chicago, IL Juried National Show Space 39 Gallery, Ft Myers, FL, Dark Arts, Invitational Group Show Arts for ACT Gallery, Fort Myers, FL Women's Work, A One-Man Show. Beth El Invitational, Fort Myers, FL Temple Beth El, Invitational Group Show Space 39 Gallery, Fort Myers, FL Gallery Artist
2006 Von Liebig Art Center, Naples, FL The 45th Annual Founders Juried Awards Exhibition, Juried by Faith Ringgold BIG Arts Gallery, Sanibel, FL, Ten People I Met While Working in Florida, Curated by Scott Snyder, Gallery Director and Associate Professor of Art, Florida Gulf Coast University Space 39 Gallery, Fort Myers, FL , Art in Text. Invitational Group show. Captiva Civic Association, Captiva Island, FL, Group Show Bob Rauschenberg Gallery, Edison College, Fort Myers, FL Arts for ACT Preview Exhibit, Group Show of work to be auctioned at the annual Arts for ACT Auction with featured artist Robert Rauschenberg Space 39 Gallery, Fort Myers, FL , The Elements. Group show of gallery artists Harborside Convention Center, Fort Myers, FL Recycling Children Series, Four person group show Sugden Welcome Center Gallery, Florida Gulf Coast University, Fort Myers, FL, Women's Work, One Person Show
2005 Alliance for the Arts, Fort Myers, FL 2D/3D Best in Show Winners: A Look Back at the Past Decade of Winners. Invitational Group Show Addison Gallery, Bonita Springs, FL Retail Gallery Alliance for the Arts, Fort Myers, FL 2D/3D 2005 All Florida Juried Exhibit, Juror's Choice Award Alliance for the Arts, Fort Myers, FL Love Effects, Invitational Group Show Alliance for the Arts, Fort Myers, FL Heat, Member Show Rookery Bay Institute, Naples, FL A Sense of Place, Juried Group Show
2004 Sugden Welcome Center Gallery, Florida Gulf Coast University, Fort Myers, FL Inaugural Exhibition, Recycling Children, One person show. Rookery Bay Institute, Naples, FL The Natural Elements: Fire, Air, Water, Earth. Juried Exhibit Florida Gulf Coast University Library Gallery, 911 Days after 9/11: Where are we Now? Invitational Group Show. Alliance for the Arts, Fort Myers, FL Contextuals: Art Incorporating Text. Three-person show Alliance for the Arts, Fort Myers, FL 2D/3D 2004 All Florida Juried Exhibit. Juried Group Show
2003 Alliance for the Arts, Fort Myers, FL 2D/3D 2003 All Florida Juried Exhibit. Juried Group Show. Best in Show Alliance for the Arts, Fort Myers, FL Hooked, Member Show
2002 Von Leibig Art Center, Naples Art Association, Naples, FL Identities & Autobiographies, Juried Group Show Florida Gulf Coast University Library Gallery, Fort Myers, FL The Four Elements, One-person show Florida Gulf Coast University Library Gallery, Fort Myers, FL The Four Elements, One-person show