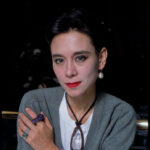 Born Bettina Louise Lutz, the supermodel, jewelry designer and fashion collector, was known professionally as Tina Chow.

Tina Chow stood out from the crowd with her handsome Eton crop hairstyle and her minimalist approach to fashion. She owned hundreds of designer clothes. However, jeans and T-shirt were often her favorite outfit. She was never a fashion follower, but always a leader and a trendsetter. Karl Lagerfeld credits Chow as the inventor of minimal chic, and Kate Moss considers her to be her style icon. In 1985, Chow – who had had such a profound influence on the styles of her era – was initiated into the International Best Dressed List Hall of Fame.
Chow was encouraged by Andy Warhol to turn her attention to jewelry design. She incorporated her healing stone into bamboo using traditional Japanese basket weaving techniques to follow the shapes of the uncut stones. Chow's unique design was frequently the subject in pictures by photographers like Cecil Beaton, Helmut Newton, Herb Ritts, and David Seidner.
Her polished stones (topaz, quartz, rock crystal, etc.) chosen for their virtues are set in braided bamboo frames by the great Japanese master, Shochikudo Kosuge. Her most famous piece, the Kyoto bracelet, contains 7 mobile crystals, and can now be seen in museums such as the Museum of Decorative Arts (Paris).
She became an AIDS activist after losing many friends to the disease. She herself contracted HIV in 1985 and was diagnosed with Aids in 1989. Tina Chow lost her life from complications from AIDS in 1992. After Chow had made her illness public, she continued to work with AIDS organisations, such as Angel Food, the institution that delivered food to AIDS patients.
She lost her life from complications from AIDS at her home in Pacific Palisades on January 24, 1992.
This is a tribute page created by Visual AIDS. Text from Style Magazine.
Read Less Read More