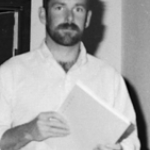 The lush surfaces of Tony Greene's work, in which elaborate paintings are embalmed on tinted photographs, address desire and mortality, with a nod to the dark ornamentation of the Victorian age. The photographs depict many subjects including: taxidermied wildlife, exhibited in natural history dioramas, and idealized male bodies depicted in physique magazines. Obscured by painted foliage and calligraphic swirls, these images can be seen alternatively as objects of sexual yearning or as memorials for those lost to AIDS.
Tony Greene studied in Los Angeles, receiving his BFA from Otis College of Art and Design in 1985 and his MFA from CalArts in 1987, and continued to live and exhibit in L.A. through 1990. During this brief and artistically fertile period, he influenced and was influenced by a significant group of artists who went on to shape contemporary art, including Catherine Opie, Richard Hawkins, Lari Pittman and Nayland Blake. Although rarely on display in the past 20 years, Greene's paintings have lived on in the homes of his intimates and artistic peers. His legacy as an artist, friend and personality has grown far beyond the circle of artists who emerged in L.A. in the mid-1980s.
Unlike many gay artists who reacted to the AIDS epidemic by framing their work solely as activism, Greene was able to keep that dire reality present while foregrounding passion as something ongoing and alive. Photographic images from physique pictorials, natural history dioramas, and men's mouths from gay pornography act as a base for decorative arabesques and molded Rosicrucian lettering. Layered with lapidary glazes, the paintings incorporate romanticized images that elicit desire viscerally, yet remain encased in veils of paint, barricaded behind ornament and fleshy yarns of Rhoplex.
Before Greene's untimely death from complications of AIDS, he was admired for creating work that addressed queer sexuality through painting at a moment when the medium had largely been forsaken for more conceptual and activist practices by his peers. Greene's work, rarely seen during the past twenty years, was contrary to and provocatively out of step with the art of its time.
This tribute page was created by Visual AIDS.
Read Less Read More